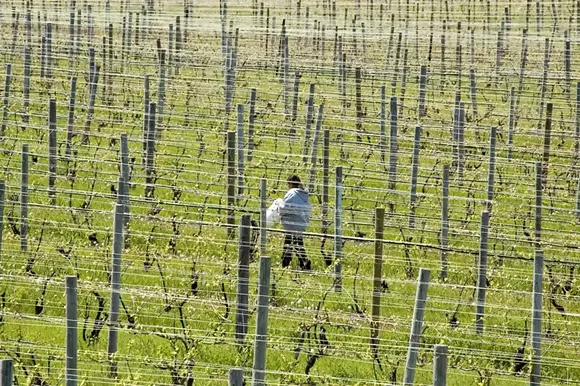 President Donald Trump's approach to governing thus far is, if nothing else, original: Firehose the country with enough lunacy, extreme policy shifts, and conspiracy theories that our collective head spins. See what sticks, and continue spraying.
By design, the strategy makes it difficult to assess all the consequences, and though it gets drowned out in the larger discussion, your dinner is not immune to Trump's policies. Look no further than his campaign promise to eliminate "food and farm hygiene" rules, like food temperature requirements, and the "FDA Food Police" for cause for concern. Now is a great time to take up gardening.
But beyond food safety, Trump's other policies could damage Michigan's food system and economy. Though it's impossible to know what's next, immigrant labor shortages are already leading to unpicked crops dying in the fields. That and the "wall tariff" will increase food prices for consumers and small businesses. Small and urban farmers also face uncertainty. And, as one Southwest Detroit Mexican restaurant manager put it to me the day after Trump proposed the 20 percent tariff on goods imported from Mexico, "Hope you don't like avocados!"
While guacamole won't disappear under the new administration, a tariff on Mexican-imported produce has the potential to reshape menus. Consider that Mexico grows over 40 percent of the fresh fruit consumed in the United States, according to the Department of Agriculture, and we buy about $21 billion in produce from our southern neighbors. A 20-percent cost increase means we'll pay an additional $4.2 billion for the same food. Restaurants with already razor-thin profit margins will either be passed on to diners, or menu items will be eliminated.
The tariff also could potentially alter grocery lists and impact local supermarkets' bottom lines. Southwest Detroit's E&L Supermercado owner Mike Feinmann says most of his dry goods — even those from companies like Goya — are produced in the United States, but a tariff would bump up the cost of produce and beef.
"Who pays for the tariff?" he says. "Unfortunately, it's the consumer and small businesses hurt by it most. When it comes to the auto industry, big corporations never take the hit. Instead it's a store like mine. No one is going to pay twice as much for a chile, so I will have to take small hit there."
"Smaller businesses feel the wrath more than Ford or Chrysler," Feinmann says, though he adds that the proposals are all speculation at this point, so he isn't yet wringing his hands.
A tariff would also hit small food businesses that are one of the great strengths of Detroit's foodscape. I used to run a small pickle company called Perkins Pickles that, at its peak, distributed to around 30 grocery stores. Most cucumbers are grown in Mexico during winter and spring, and I bought over 40 bushels monthly. Tacking on 20 percent to cucumbers would have meant a $250 bump in monthly costs. Not a killer, but a definite ding for a fledgling company.
More alarming are the consequences of removing immigrant labor from the equation. There's no way around it: Immigrant labor is a pillar of the food system.
The situation is most dire on Michigan's farms. The state's approximately 49,000 migrant workers is the fifth highest number in the country behind other ag heavyweights like California and Florida. Immigrant workers here pick and process the majority of Michigan's cherries, apples, asparagus, blueberries, and other crops.
Over the last several years, state farmers have raised concerns over a shortage of immigrant pickers, and the upshot is obvious: Crops die in the field. That's already happening on a small scale in Michigan, and it's worse in other states, like California, where agri-businesses and growers that supported Trump are now alarmed over what his immigration policies mean for their businesses. In Alabama, farmers have been watching crops die on a large scale as immigrant workers, fearful of U.S. Immigrations and Customs Enforcement, or ICE, vanished in recent years.
Unpicked crops ultimately increase costs for the consumer, the farmer, and the rest of the food system, and the shortage is only expected to get worse in Michigan under Trump, says Filiberto Villa, who runs Farmers on the Move, a migrant worker cooperative with an office in Battle Creek.
"(Immigrant workers) are frustrated and don't feel comfortable, particularly now with this new administration. They really, really worry about the conditions here. What the new administration says — it sounds terrible to immigrant workers," he tells MT, noting that police and ICE harassment is mostly what's driving away workers.
"The police don't see people, they just see the faces of Hispanics. They can't see them as people, they see them as criminals, and they take everybody."
The common argument from the right is that immigrants are "stealing" jobs, and hardworking white Americans will flock to fill the positions once we turf the Mexicans. But farmers are finding that just isn't the case. Even though picking jobs pay a minimum of $12.75 per hour, and farmers and the state government are actively recruiting "domestic" Americans, they aren't signing up, or don't last in the fields more than a few days.
"They just don't tend to stay," says Bob Boehm, a manager with the Michigan Farm Bureau's Great Lakes Ag Labor Services.
Boehm is an agent who hooks up farmers with labor through the H-2A Visa Program, a federal migrant work program that guarantees good pay for workers, whether they're immigrants or domestic. But with little interest from domestic workers and a variety of forces keeping immigrants away, there's a serious labor shortage.
"We need to process the food we pick, and that doesn't happen if you don't have the labor to pick it," Boehm says. "Even though the wage rate is higher, food is going to waste in fields."
The answer lies in common sense immigration reform that allows immigrant workers on farms, he says, though that doesn't appear to be in the cards. Thus, Great Lakes Ag focuses on guiding farmers and laborers through the paperwork, and simplifying the H-2A program for all parties.
A shortage of immigrant labor is also a problem in Michigan and Detroit's restaurants, which employ nearly 34,000 immigrant workers. Sergio Martinez, who has worked as a restaurant manager in Detroit over the last nine years, says the immigrant labor force is highly reliable, and that benefits businesses and diners.
"A restaurant is fast paced, and you need all the good help you can get," he says. "Immigrants are more loyal to their employers, more appreciative of the opportunities, and that impacts the business." The proposed immigration policies "are not a good thing for anyone," Martinez adds.
Labor issues are already disrupting some restaurants, and that problem is expected to get worse, says Alicia Farris, state director with the Restaurant Opportunity Center, a group that represents and advocates for 18,000 restaurant employees nationwide.
"It is going to have a negative impact on the restaurant industry," she tells MT. "People stay out of places where they feel they're going to be targeted. Restaurant owners want someone who goes to work every day and is committed to the job, so it's difficult for them to maintain a good establishment if they have people who are fearful of showing up to work."
Beyond immigration issues, small farmers fear what's on the horizon. Trump's pick for agriculture secretary, Sonny Perdue, is a former industrial pesticide salesman viewed as a Big Ag ally. He was also the governor of Georgia in 2008, when unsanitary conditions in one of the state's food processing facilities led to the nation's deadliest salmonella outbreak. It killed nine people, sickened 714, and prompted the 2010 Food Modernization Safety Act, which put in place food safety laws Trump wants to eliminate.
Perdue's connection to the pesticide industry is a concern to local organic farmers like Stefanie Stauffer, a manager at the Tillian Farm Development Center in Ann Arbor. Environmental laws seem to be at the top of Trump's deregulation checklist, and Stauffer fears that the loosening of those rules will lead to the contamination of the water system and soil, effectively killing organic farming.
Funding for organic farmers is also up in the air, Stauffer says. The Obama administration's USDA offered grants and resources to organic, urban, and small-scale farmers. There's a high concentration of small farms in southeast Michigan, but Republicans, who are taking the lead on drafting a new farm bill that must be passed in 2018, are generally hostile toward small farms.
Ultimately, the issues boil down to economics, and the policies seem to make little sense, whether it's in regards to offering resources to small farmers, implementing a tariff, or tightening the borders.
"It's a fiscal issue," Martinez, the restaurant manager, says. "If you empower people and help bring them out of the shadows, and let them contribute to society ... it's good for everyone."