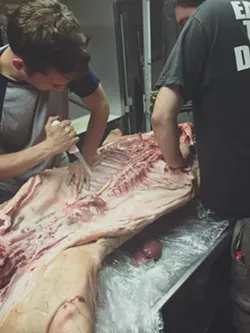 Nancy Whiskey's fifth annual Rock N Roll Pig Roast wrapped up another successful year this past Independence Day Weekend, with a punk rock lineup, plenty of drinks to go around and, of course, the gargantuan, 143-pound swine that's really the unspoken hero of the event. We decided to catch up with Nyle Flynn, the chef who helped make it possible, to find out what all goes into the roasting.
Preparation started a few days before the event, when Nancy Whiskey's bartender and party organizer, Dan Carey, contacted Flynn to ask for help, after the guy who had been in charge of the roast in previous years had to drop out at the last minute. Flynn, a sous chef at Selden Standard who had been accustomed to such a task from his days working at
Michael Symon's Roast
, was up for the challenge, even though he was set to make one for his own family on Saturday. "I literally was walking back and forth to my family party and (Nancy Whiskey), checking on both pigs," said Flynn, who lives down the street from the pub.
Flynn started off by injecting the massive pig with a salt and sugar brine needle, two days before the festivities. The night before it went over the charcoal-fueled flames, "we just kind of attack it with salt" to dry the skin for about six hours. Then he split the rib cage down the middle, while Carey lit an even layer of charcoal croquettes - about two hours before it's time to start roasting. Flynn placed the swine over the flames belly-side-down, about 2 a.m., the day of the event and let it sit all night at a low temperature and covered in foil. Then just a couple of hours before the first act was set to perform, the crew flipped the pig over to give the skin a nice crisp.
Meanwhile, Flynn was busy with his own pig was back home, roasting simultaneously, the only difference, it cooked in what Flynn called a China Box, a wooden receptacle with a metal sheet and hot coals placed above it to create an oven-like effect. The team split the pig open just as
the opening act, Deadly Vipers
, kicked off the show. All that prep, and hardly any time to recover, Flynn was back at it at the award-winning Selden Standard first thing Monday morning... What a weekend!