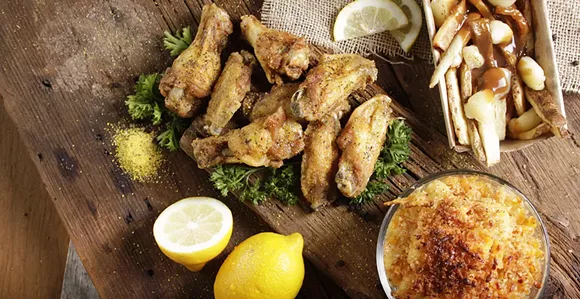 The Super Bowl — a nearly national holiday in which America turns on the tube to witness a reel of its ad agencies' finest work broken up by a contest of tightly padded and spandexed men plowing into each other along with a usually impressive halftime performance — is nearly upon us!
And what really is any American holiday but a chance to overindulge in food and booze with your friends? If the gang is plopping down on your couch to shout at the television this year, don't disappoint them with a bowl of low-grade chips, caulky Borden's dip, and cheap swill. Do it right. Here are our suggestions on how to cater for the ultimate metro Detroit Super Bowl party:
Slows to Go
Barbecue titans Slows offers catering out of its Midtown location. Its smoked wings are some of the best in Detroit, and the brisket, mac and cheese, and ribs are about as football-centric as one can get with a caterer. 4107 Cass Ave., Detroit; 877-569-7246; slowsbarbq.com
The Oakland Art Novelty Co.
Your mixed drinks aren't any good, and you aren't the cicerone you fancy yourself. Do the party a favor and call in the cocktail pros from the Oakland in Ferndale. The tiny bar offers "execution of beverages at your home, a full-fledged mobile bar, or an intimate cocktail tasting." 201 W. Nine Mile Rd., Ferndale; 248-291-5295; theoaklandferndale.com
Olga's Kitchen
Catch Olga's one-time Super Bowl special of $10 for two pounds of crunchy, paprika-y, cayenne-y Snackers. Various locations; olgas.com
Frita Batidos
What's an afternoon of gridiron without Cuban plantains? Boring. Frita trades in Cuban street foods, and picking up a tray of Cuban sloppy Joes and Mexico City Corn is a smart and creative alternative to the standard football fare. 117 W. Washington St, Ann Arbor; 734-761-2882; fritabatidos.com
Holiday Market
No grocery store in the Detroit area makes better food than Holiday, and their catering menu is about as wide ranging as you'll find. 1203 S. Main St., Royal Oak; 248-541-1414; holiday-market.com
Mean Weenie
Big bash? Hire a food truck! And a hot dog dispensing truck with a name like "Mean Weenie" offering dishes like the "Mac Dog" (a mac and cheese hot dog) or "Guacin the Dog" (a chipotle cheddar, homemade guacamole, and Dorito's nacho cheese chip-topped wiener) is sure to be a smash hit with any football crowd. 1708 Livernois Rd., Troy; 248-630-5737; themeanweenie.com
Detroit Wing Co.
A wing company is a logical and safe bet for your Super soiree. The Eastpointe storefront is offering specials on boneless wings, chicken tenders, coleslaw, and potato salad. 17535 E. Nine Mile Rd., Eastpointe; 586-204-3156; detroitwingco.com
C.A.Y.A.
Those in the western burbs near Walled Lake would be wise to check out the barbecue-heavy catering options at C.A.Y.A. Chicken wings, pulled pork, chopped brisket, mac and cheese, burnt ends chili, and cornbread are some of the items in its packages. 1403 S. Commerce Rd., Wolverine Lake; 248.438.6741; cayagrill.com
Zingerman's
Is there a better sandwich shop around? Many would say "No!" But the Ann Arbor-based restaurant caters much more than just that, and knows football parties as a go-to caterer for University of Michigan home football games. 422 Detroit St., Ann Arbor; 734-663-3354; zingermans.com
Wingstop
With bulk options like the "Big Boneless Blitz," Wingstop is a safe bet for wings, tenders, and all the standard sides. Various locations; wingstop.com