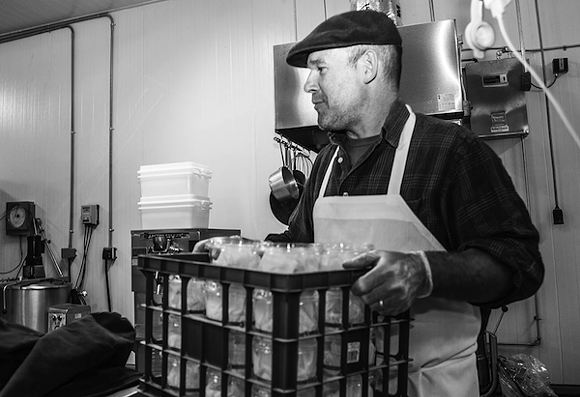 Longtime Detroit resident Chris Reilly has been making ice cream and cheese for more than 12 years. This summer finds him expanding his business, Reilly Craft Creamery.
The
Metro Times
crew actually got the chance to try some of Reilly's ice creams here in the office. (It's hard to turn away people who bring us treats.) We tried the coconut-tinged Vegan Vanilla, the Cocoa Almond Crunch, and the Sea Salt Caramel that we hear flies off the shelves. The stuff we dug into was great, and so we caught up with Reilly and quizzed him about how he got into making ice cream, cheese, and other foods.
It turns out that Reilly started out in the food trade around 2003, as an avid home brewer who was picked by Traffic Jam owner Scott Lowell to help ferment beer and eventually make cheese for the Canfield Street restaurant. After more than a decade building his skills, Reilly placed sixth in a competition
Reilly parted ways with TJ's in August 2014 and after taking severance from a gig at the former Hiller's Markets, began fleshing out his creamery in the spring of 2015. He bought some equipment, and his friend Jackie Victor, of Avalon International Breads, let him use some extra space at the bakery's Bellevue Street space.
And then Reilly got down to the business of making ice cream — from scratch.
Reilly points out that even fancy ice cream shops make the flavors, but buy premade mix. "That stuff alrady has the stabilizers and emulsifiers that I had no interest in including in my ice cream," Reilly says, "like the polysorbate 80 and the mono and diglycerides, which are part of modern commercial ice cream."
"Making flavors is an important part of the process," Reilly says, "but making the mix from scratch was a little harder to figure out. It took about three or four months, to where I'm really happy with my mix, the texture, the creaminess."
Reilly also had a relationship with the local Department of Ag inspector from his time at TJ's, which gave him a leg up when it came to navigating the regulatory system.
While Reilly had wanted to run a scoop shop, it turns out that producing ice cream means you have to be a dairy manufacturing plant. He says, "You would need wholesale distribution and a retail presence, if only because … what do you do during the winter when no one's going to scoop shops? I didn't know if I could hit it that hard during the summer to be able to make it through the winter. And I want the business to be able to grow."
It turns out it's not so easy to make locally sourced, handcrafted ice cream, using only 100 percent organic, antibiotic- and growth hormone-free, grass-fed, animal welfare-certified milk. Reilly makes the trip up to Hill High Dairy in Arenac County's Standish, and says it's worth it.
"Whether I make it into ice cream or cheese, it's the outstanding quality of their milk that is shining through my products right now," Reilly says. "It's great milk, really high butterfat content, awesome people, nice farm, but when you go and get the grass-fed milk and it's butter yellow this time of year because they're getting out there and grazing, it's a whole other level. … Until they change the law and let us have cows down here in Detroit, it's what I got to do."
Then there's Reilly's vegan choices, including his Vegan Vanilla. "It's made with coconut milk," Reilly says. "I'm really respectful of people's dietary choices. My wife is gluten-free and having kids nowadays, when you're trying to bring a treat to school, you gotta really have a good handle on all the food allergies that are out there and whatnot. I felt that it was important to have some offerings so the one person who's vegan in the group doesn't have to feel left out."
"I settled on the coconut milk because I think that the texture is phenomenal," Reilly says. "I've never really been happy with soy ice cream, which tends to be icy. And you just can't get that fat content. The coconut is kinda strong with the flavor. If people don't like coconut, they can be turned off, but it seems the texture makes up for it."
Though he's still working the kinks out, over the next couple of weeks, Reilly expects to have a number of soft cheeses on offer. "I'm feeling confident about putting some on the shelf," he says. When Avalon opened a retail bakery space at the Bellevue Street location, he put his cheeses on sale and says he "had a really great, positive response."
Reilly hints that, a few weeks down the line, he may be opening a pop-up scoop shop somewhere in the West Village, and that other long-term plans include dry-aged cheeses and small-format bloom rind cheeses. "They're kinda like a camembert, but a little more mushroomy, like a proper French camembert."
Reilly Craft Creamery ice cream can be found in pints at Parker Street Market and Avalon Bakehouse. Vegan Gelato and Sorbet are available at Sweeties Ice Cream and Candy, Grosse Pointe Park. Look for pop-ups at Corktown Farmer's Market, St. Clair Shores Farmer's Market, and Slow Roll Detroit. For details on catering, see reillycraftcreamery.com or call 313-300-9859.