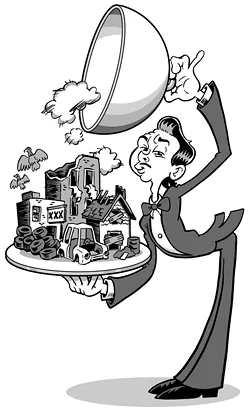 It's Monday evening at a Detroit pop-up called Goldfinch American, and 16 people, mostly professionals and business owners from the city and suburbs, sit in folding chairs in an apartment near Clark Park eating an 11-course meal that costs, at minimum, $121. If diners want drinks, they can order a pairing costing another $50. Median income in the neighborhood is about $24,000, less than half the national average.
The apartment sits on a street that the proprietor, Tunde Wey, a Nigerian immigrant, had earlier described on the pop-up's website as "trash-lined," the bus stop on the corner "an unattractive place to sit, stand or be."
Also included was a quote placed without context, after a menu that includes seared duck breast, pork belly and smoked parsnip purée:
"Your Goldfinch restaurant concept is food porn meets ruin porn. … The draw is great food in a gritty building in a decrepit area surrounded by pigeons and poor dirty children? It's a post-apocalyptic paradise. If it were a movie, you would be the bad guy. If it were a book, you'd be a warning tale of the treachery of the rich when the dregs of society become an inconvenience to them. You are the realization of restaurant gentrification."
The tone of the website seems designed to provide an edgy juxtaposition between image and price, and includes stark black-and-white photographs of neighborhood children and pigeons.
With gentrification becoming a kitchen-table discussion for many Detroiters following recent evictions downtown and lots of attention being paid to new young white residents, the website for the new venture and the price of the dinner recently caused some disquiet on social media. Many people were unhappy with what they saw as the exploitation of and insult to a community and its character used to sell a product and an experience that was unlikely to include residents of that very same neighborhood.
Speaking on the condition of anonymity, owing to the sensitivity and personal nature of the discussion, a shopkeeper blocks away from the venue says, "I know the intentions [Wey] has. He's being provocative for marketing. But he crossed the line."
Metro Times had an unusually difficult time getting people to speak on the record for this story — local politicians, business owners, leaders of local professional organizations and residents did not return repeated attempts for comment, many outright refusing — suggesting the topic encompasses all the troubling vagaries of race and class in today's Detroit and America.
"Are we porn?" asked Rashida Tlaib, state house member for the district that includes southwest Detroit, where she has been a resident for more than 30 years. "If my residents feel disrespected — even one — we have some issue." She was careful, though, to caution that people might also simply be afraid of change. She noted when food trucks came to southwest Detroit, business owners were similarly worried about the character of the neighborhood.
A tall, black African, Wey doesn't exactly fit the common portrait of someone gentrifying a city. He moved to metro Detroit from Nigeria at age 17, moving to the city proper in 2011. He says in his introduction during dinner that he himself "couldn't afford to eat here." He is quick to note, though, that he holds a great deal of "cultural capital" and upward mobility, something difficult to define but real nonetheless. He's co-owner of Hamtramck's experimental restaurant Revolver, and lives in the neighborhood he wrote about on the Goldfinch website.
"If [Goldfinch American] is obscene, it's because the system is obscene," Wey says over drinks at the V.L. Bar, located around the corner from the venue, days after the inaugural dinner. He says he will be holding the meals pop-up style until he can afford a brick-and-mortar restaurant in the neighborhood. "Part of this project is to start conversation. … Success for me is if people talk of things differently."
But he warns, "I'm not trying to say just one thing. Of course, I'll make a profit. I need it to pay rent," he said. "Is my profiteering more egregious than your profiteering?"
He mentions that he can't afford a car and feels close to poverty himself, with limited options. He often rides the bus and waits at the stop he described. The description on the website was a reaction to his reality, he explains. "I don't want to be offensive, but I have to respect my own voice," he says. "I'm not happy about people being mad, but I'm not sorry for saying the truth."
The local shopkeeper agrees, after much hesitation, that his description of the neighborhood was "the reality," but adds that it lacked balance and takes into account only one facet of the neighborhood.
"I'm not surprised at the reaction," he says.
"People's emotions are heightened by an influx of people with money and the ability to push people out," says longtime southwest Detroit resident Amelia Duran. "This creates an environment that places people on opposite sides of the street."
She adds that she thinks Wey is not only mocking the community but the people who live there. Although he may be attempting to start a conversation, she says, she questions the method, and notes that respect is paramount when presenting change.
"[If it is satire], it may have been OK in a book, but he placed it on a community that is tangible and real," she says. "It's not the bricks and mortar we're proud of, it's the spirit of the community. [Gentrification] is not just physical displacement, it can be about pushing people's cultures out."
Wey contends nearly all the money he earned from the dinner will be spent in the neighborhood. He had just returned from Lupita Laundromat, and had also spent money he'd earned from Goldfinch that day at Café Con Leche and Honeybee Market, among other businesses in southwest Detroit. Wey says Goldfinch is a magnet for capital that would otherwise be spent elsewhere, and says he was also able to employ three people, paying them fair wages.
"I want to maintain the cultural integrity [of the neighborhood], but I don't want to do that at the expense of our economic well-being," he says.
The next potential date for dinner is May 17, if he is able to resolve some staffing issues and get enough people to sign up for it. Wey says the menu, style and offerings may be drastically different, noting "[Goldfinch American] is all about change." He said he also would like to have a broad "community conversation" around the restaurant and surrounding issues.
"It's a joke, but I don't know who the joke is on," says Cary Brainard, author of the gentrification quote on the website, referring to the pop-up. Brainard says he is "good friends" with Wey and provided the quote when Wey asked him to review the website before publication. He gave his honest opinion, not expecting it to show up on the site. Nonetheless, he "supports [the] endeavor."
"The joke is perhaps on all of us," he says.