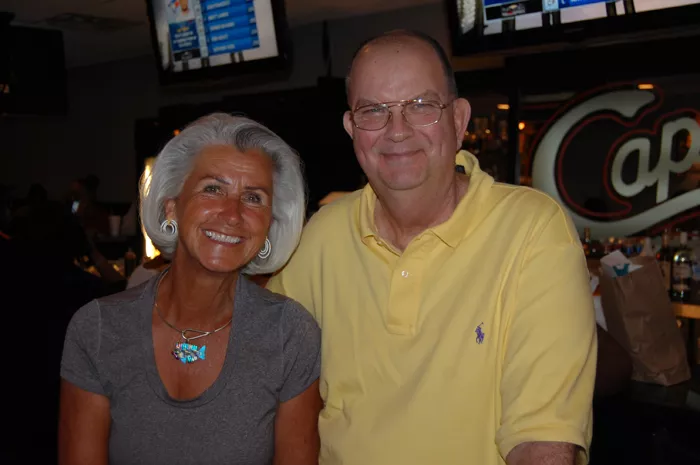 It's a weekday afternoon at Capers Steakhouse on Detroit's east side. Janina Jacobs, co-owner of the restaurant with her husband, Gary, is testing cheese sauces for the restaurant's massive baked potatoes. Evidently, the sauce was drawing customer complaints. Nibbling on a spoonful of the sauce, she wrinkles her nose and says, "Oh, I don't like that. No wonder they complain." She explains to us that food-service companies sometimes cheap out on a particular product, forcing her to seek out a new, better source. Two more sauces get a tasting, and, within minutes, a modified version of another sauce is approved for dressing the eatery's monster spuds.
Not a bad job for a woman who says she "never cooked a day in her life." Janina, class of 1977 at Pershing High School, started out far away from an oven; she had attended Wayne State, on a professional track. When she wound up behind the grill at Capers at 23 years old, she says, "Cooking? Uh-uh."
Janina backs up a bit. "If you go back to the beginning," she says, pausing a moment, "this was actually a mistake."
Back in the early 1980s, Janina's future husband, Gary, was working at General Motors' testing laboratories, while Janina pursued a professional job, even working as a salesperson for Jockey underwear, "one of the few women," she adds, laughing.
Gary, however, was restless, dissatisfied with his undemanding desk job and unable to advance at GM without a degree. When Janina got a gig doing public relations at WDET, she met Albert J. Lowry, in the studio to champion his new book on how to succeed in real estate with no money down. The book was passed on to Janina, and she passed it on to Gary, who quickly started a real estate office at his desk at GM to pass the time.
The couple soon married and became landlords, owning a 47-unit apartment near the university and 11 two-family homes on the east side of Detroit. "We weren't slumlords," she says, "because we had really clean, good places." Around 1981, another couple proposed a joint venture to buy the bar and grill that would become Capers, which they "could probably get for a song."
"At the time, it was called the Carpet Room Lounge, and it looked almost like a bordello, because there was red carpet all over the walls," Janina says. "It used to be a piano bar, but by then it was a dive bar, basically, a shot-and-a-beer kind of place."
The meager grill consisted of a toaster oven, but their new business plan called for a full-service menu, with burgers, soups, and sandwiches. When they first opened in November 1982, their first business cards read "Capers: Lunches Served with Passion and Intrigue."
"That wasn't mine," Janina adds.
Gary, a numbers man used to the income-housing business, balked at the idea of a property that wouldn't make money for several years. The bills piled up, causing friction between Gary and the other couple. One day, Janina and Gary found that their prospective business partners had bailed, leaving the keys on the bar. That's when the enterprising couple got a crash course in running a tavern.
Recalling those heady days, Janina reels off tales of how she kept costs down and tried getting people in the door. One prudent move was to recruit loyal employees early on, especially a bartender who could "draw a crowd," including Sue "Peanut" Taormino — who is still patrolling the room as we speak. She's not alone among Capers' longtime employees, which include Phyllis Olszewski (31 years), "Dee Dee" Darling (30 years), and Marianne Scalise and Trish Judson (both 28 years), as well as many more.
What's behind all this success? Steak by the ounce. It's the kind of gimmick that can fascinate the uninitiated, perfect for spreading the word, one that even draws guests from other states. The idea was a gift from a tavern owner down the avenue who offered the deal on Mondays. The owner suggested the J's try it on Sundays, when his bar was closed.
"I remember Gary and I just agonizing over it, she says, "We did it one week and didn't sell the whole loin. It's expensive, you know? At the time, it was, like, $3 or $4 a pound. Times 14 to 15 pounds, that's a lot of money back in the early '80s. The second week, I remember asking, "Oh, my God, do we buy one loin or two? You don't want to run out, but then you don't want it to go bad either, right?' Now I laugh."
That's because steak by the ounce was such a runaway success they decided to serve it every day. "Cost analysis people would call us crazy, because you don't offer a prime menu item as your loss-leader. You offer a free pop or fries or something, a come-on. We really make very little on steak. But what it did was it created a buzz that was so unbelievable. People had to come and see it for themselves, because they would think, 'Oh, well, steak for 30 cents an ounce, it can't be good.' And when they came and they tasted it and it was good, they'd think, "Well, how can you do that?" The answer is volume."
She ain't kidding. Every week, the restaurant goes through a ton of beef, often literally, and, during the busiest times of year, more. Prices have gone up at Capers — a little, and only occasionally — but T-bones are still just 70 cents an ounce, $1.50 an ounce for filet mignon. In meat-and-potatoes Detroit, that makes Capers a place where blue-collar diners can depend on getting an affordable meal that screams excess — along with the requisite big-ass baked potato to take home.
"That's our second-biggest item," Gary says. Sometimes literally. The restaurant's 40-count potatoes are generally "huge, almost football-sized," Gary says with a chuckle. These superspuds can be loaded up with a host of add-ons, everything from scallions to steak.
If steak by the ounce was an idea borrowed, the colossal potatoes are a homegrown concept. Janina recalls, "One customer said, 'Can I get a potato with broccoli and cheese? Or can I get chili and bacon? Or steak and cheese?' So they came up with all these concoctions, and it would come out and people would watch it go by. You'll notice here that people are always looking to see what goes out. They're keeping an eye on it, and they'll say, 'Can I have what he had?'" The Jacobses watched too, and onto the menu went a multitude of innovative trimmings that made Capers' baked potatoes a hit. In winter, diners can consume 55 50-pound cases of potatoes a week.
Another charming novelty is the steakhouse's signature big-ass drink, the Shady Lady. Janina says, "Capers has kind of come to take on an aura of big, bad boy beers, big steaks, and big bakes — a small, little place with big food — so that's kind of where that came from. We had the 33-ounce beer, and people asked if we had an alcohol-based drink." Pointing to an array of enormous boat-drink glasses, she says, "When we saw those big glasses, we thought, 'Why not do strawberry daiquiris, margaritas?'"
To call the Shady Lady a drink is an understatement. It's more like three drinks poured into a 46-ounce goldfish bowl on a stem, containing sometimes nearly four shots of rum. "But it basically translates to three drinks," Janina says. "They're easy-to-go-down drinks. They're not really overly laden with alcohol."
It's just another quirky offering that works, taking the red-meat, big beer, big bake bar and adding a big girly drink.
Such attention-grabbers have certainly helped Capers stay vibrant through the nadir crack years of the 1980s and beyond. Janina remembers the crack decade well: "Behind us were crack houses, and we saw the comings and goings. There were a lot of hookers walking the streets. It was the old Wild West — or the 'Wild East' I guess I should call it," she adds with a laugh.
Through the years, the couple hasn't just stuck it out, it has profited, buying property on the block to keep out drug dealers. These days, the east side bar and grill that was once "a mistake" is fresh off a remodel: The bar's old cove ceiling is wiped away, the dining room sports new marble accents, and the kitchen is all gleaming stainless steel. A few years ago, Gary says, they had to decide if they were in it for the long haul or would do as many had suggested: move the steakhouse out of Detroit. After careful consideration, the couple decided to go all-in.
"We own the whole block now," Gary says, noting they've bought the bump shop next door, which had recently been a trouble spot. "We had a decision to make, and I decided, 'Let's go for it.' We've put $800,000 in three years into this block."
With all the hassles of running a business in Detroit, what keeps the couple going? Gary says, "For me it's more soulful now. I don't need to do anything. I could retire tomorrow. But," he adds, pointing at the staff, "he's my family, that's my family. These people in here are my family."
So Capers keeps going, but that doesn't mean Gary doesn't get frustrated with the city government as a business owner in "the neighborhoods." He says, "How many times have I told politicians, 'All these folks want is a job, OK?' They want to work. But the city just will not give them that opportunity. … Dan Gilbert and Mike Ilitch, the superstars of our business community, have done terrific things downtown, but why is the city still suffering?"
He sums it up this way: "You have to have a proper meld between business and community. They go hand in hand."
Capers is at 14726 Gratiot Ave., Detroit; 313-527-2100; caperssteakhouse.com.