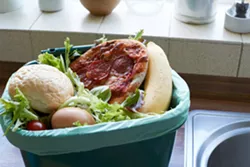 The statistics on food waste in the U.S. are staggering – 40 percent of our food is thrown out, while 14 million children suffer from hunger. Locally, all the wasted food could provide everyone in Detroit with three meals 365 days per year.
Logic tells you that there should be a way to get food that's wasted by restaurants to those who are hungry. It turns out, there is, and Detroit is one of the nation's few cities taking the lead on that effort.
"We're looking at the world's stupidest problem. How is it possible that you have all these people who don't have food in 2017?" asks Kevin Kay, a member of the Detroit Food Policy Council who is tackling the issue. "You can't donate extra food, so it gets thrown out. It doesn't make any logical sense."
To some degree, extra food is salvaged at large grocery stores that work with Forgotten Harvest and other similar distributors. But the latter work exclusively with grocery stores and chain restaurants, because that's what legal and feasible.
The federal Good Samaritan Law signed by President Bill Clinton allows restaurants, grocery stores, and other food entities to donate their food to an agency that addresses hunger. Both are protected civilly and criminally from wrongdoing, as long as there's no malicious intent. The donation can be written off, though it's unclear if that will still be the case.
But the law only allows restaurants and stores to donate to a group like Forgotten Harvest. As Kay points out, it doesn't make sense in terms of time, money, and carbon footprint for a large truck to pull up in front of a restaurant like Selden Standard.
So a lot of food still goes to waste. But California
recently changed its state law
to allow restaurants to donate directly to an end user, and in Seattle the Food Lifeline's Seattle's Table has been doing this type of work since 1989. It partners with over 120 local kitchens and county health officials to ensure that extra food is safely distributed to 50 meal programs throughout the city.
Kay says Detroit and the Food Policy Council could model a program after Seattle's Table, and he adds that the right system could ultimately be "as easy as delivering a pizza."
But the project is still in the early stages. Kay and several others are working on plans in a subcommittee at the Food Policy Council. They're having initial discussions with restaurateurs to promote the idea, and the next big step is changing Michigan law to allow such a process to proceed.
"If you solve that problem, health improves, kids aren't going to school hungry, they do better in school, and all these ancillary things could start to change," Kay says. "So solving this food problem can solve a lot of problems, and change so many things. People's lives change, and the city changes."
The Detroit Food Policy Council's subcommittee on food waste meets at 5:30 p.m. on Tuesday, Dec. 12th at the Eastern Market at 2934 Russell St., Detroit. The meeting is open to the public.