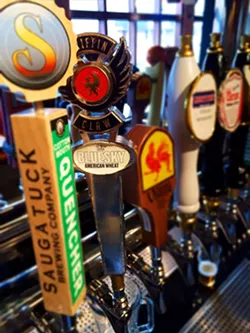 If what we're reading is to be believed, an expansion of HopCat to bro haven Royal Oak makes perfect sense.
WXYZ first
reported
that the Grand Rapids-based mega beer bar and restaurant may have plans to take over a space at 208 W. Fifth Ave., the same location that currently houses Woody's and Onyx Steakhouse.
We've confirmed that a liquor license for HopCat Royal Oak LLC is pending with the Michigan Department of Licensing and Regulatory Affairs.
Chris Knape, VP of marketing and communications for HopCat parent company Barfly Ventures, tells us that a license application has been submitted and that a metro Detroit expansion is part of the company's overall growth plan (which includes some
30 locations
throughout the Midwest).
As for the Royal Oak spot, Knape says nothing has been finalized. If/when Barfly is ready to issue an "official announcement" about it, we will keep you updated.
The TV station though seems to have gotten confirmation by way of talking with employees at Woody's and Onyx, who say they were informed via text message that Oct. 2 would be their last day on the job.
The possible move to the Oakland County 'burb would mark the third HopCat location for metro Detroit. The first outpost opened its doors in late 2014 in Midtown. Currently there are 12 locations, including a new bar in Chicago.
A HopCat would be an ideal fit for Royal Oak, considering it's already chock full of brew pubs, clubs, and 20 and 30 somethings who flock to the area's night life every weekend. The growing chain is loved for its 100-plus variety of craft beers, as well as its so-called "crack fries" (their name, not ours) and other bar snacks.