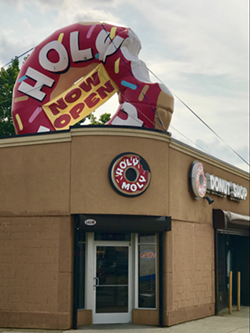 The owners of Detroit's Holy Moly Donut Shop are being charged with running a multi-state marijuana ring for which the custom doughnut shop was allegedly a front.
Federal prosecutors say the shop's owners laundered drug money through Holy Moly's 8 Mile Road location, a sham marijuana dispensary next door, and a business that fills ATM machines.
The
Detroit News
reports that Victor Attisha, 40, and business partners Junior Asmar, 45, and James Shammas, 38 were indicted on drug conspiracy, money laundering, and other charges.
The three used the donut shop and dispensary, Unified Collective, to distribute hundreds of pounds of marijuana, the Drug Enforcement Agency and prosecutors allege. They grew the marijuana in residential and commercial locations throughout metro Detroit, and bought more than $1 million worth of pot from suppliers in California.
The 24-hour doughnut chain, which specializes in customizable doughnuts, has three Detroit locations.
So many restaurants, so little time. Find out the latest Detroit dining news with our weekly food newsletter delivered every Friday morning.