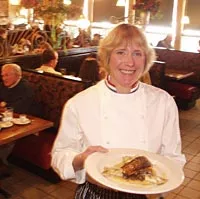 Named after the railroad tycoon, Diamond Jim Brady's Bistro started as a bar and hamburger joint on Seven Mile at Greenfield. It is celebrating its 47th year in business, and its 10th year in the Novi Town Center.
Tom Brady, who took over the restaurant from his father, runs the front of the house; spouse Mary Brady is the culinary talent. The 120-seat restaurant plays up the coincidental namesake: There is a gigantic portrait of the well-fed Diamond Jim (the co-diner describes him as Wimpy, if he fell into some money) on the back wall.
The dining room is stuffed with antiques; a chalkboard holds pithy quotes from such deep thinkers as Ronald Reagan. There is a full bar and a reasonably priced wine list, plus beers imported from nine different countries.
Both Tom and Mary Brady are often on hand and many diners greet them by name. Mary Brady is a certified executive chef who teaches a course in international cuisine at Schoolcraft College's culinary arts program. Check out the dozen or so medals on the back wall.
The menu begins with bar food — "I still say we have the best burger around," says Mary — but it goes on in all kinds of interesting directions, such as sweet potato burritos.
We began with calamari ($7.50). The crispy rings are served with a cold bean sprout salad and an oriental dipping sauce. Other appetizers include Buffalo wings (bar food again), but it gets more interesting with choices like steamed mussels and mushroom pâté.
I loved seeing shepherd's pie ($16.95) on the menu, something I hadn't eaten since a trip to the Cotswalds years ago. Here it is made with chunks of ground round instead of the traditional lamb, in a delicious veal gravy, served in a shallow casserole and topped with garlic mashed potatoes. It was good but a little pricey, considering that it was skimpy on the stew, abundant with the potatoes.
The co-diner was also thinking British when he ordered fish and chips ($10.50). The fish was just as it should have been, with a crispy beer batter, but the homemade chips were way too salty.
On another evening, I ordered Atlantic salmon which is served in a sauce flavored with five peppers. Cheese- and pepper-filled ravioli comes with, as well as luscious mushrooms — oyster, shiitake and slices of portobello. Unfortunately the peppercorn crust on the salmon was so strongly flavored that I found myself scraping it off.
Salad comes with dinner. We are used to requesting the anchovies that are supposedly integral to Caesar salad, but I was miffed to discover that they cost an extra 75 cents.
Like everything else, the soups are homemade. The creamy onion soup is served with a square of garlic bread, and the soup of the day was a very good chicken with couscous.
There are five choices for dessert, and they tend to be classics. Bananas Foster was flambéed in the kitchen, which is unfortunate, but unforgivable was the grainy brown sugar sauce. Hey, you're supposed to cook that stuff. A little more attention to detail would put this bistro over the top, which would be fitting for its namesake.
Elissa Karg dines for Metro Times. E-mail [email protected].