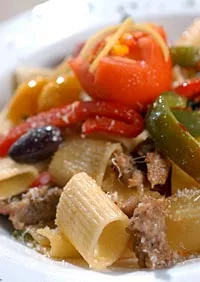 No sign on Woodward Avenue announces its presence, but once you've found it, you'll remember La Dolce Vita's marker: a tree wrapped with white Christmas lights, the only one on the block. In fact, it's the only one for many blocks, even in the holiday season. Come around the back if you want to eat.
Inside, it's romantic, dark, discreet. Faux marble arches evoke Roman history. Pewter chandeliers and black-and-white photos that range from art to family snapshots from the old country add to the setting. White tablecloths and a very good wine list make La Dolce Vita a good place for a date, even a first date; few people don't like Italian.
Manager Dean Cicala describes La Dolce Vita as "a little hidden jewel that people are happy to find here."
Soon to celebrate its ninth anniversary, the restaurant offers a classic Italian menu with few surprises, but everything we ordered was done right.
Sometimes it is simplicity itself that makes a dish: an appetizer of five chilled jumbo shrimp set on a fan of Bibb lettuce, with a dip of zesty cocktail sauce. Or prosciutto and cantaloupe, almost commonplace, but that combination of the briny Parma ham with the cool sweetness of the melon can be the perfect thing.
The house tortellini soup is another good starter: The tricolored noodles, stuffed with meat and cheese, rest in a good chicken broth. It's lighter than minestrone, leaving plenty of room for the hearty entrées to come.
Pasta dishes range from $12-$19. The goat cheese Alfredo ($14) is an interesting twist on the classic fettuccine Alfredo, and goat cheese, which is so rich and enticing, lends itself well to this entrée, known for its creamy excesses. Walnuts and sun-dried tomatoes punctuate this dish; if you're thinking that sun-dried tomatoes are so '90s, these have been preserved retaining their bright color and sweet taste.
The eggplant Parmesan shines. Thick slices of eggplant are breaded and sautéed, then layered with Parmesan and fontina cheese. The fresh tomato sauce is bright red, light and sweet. I liked that it was served atop a small mound of angel hair pasta — just the thing for getting every last bit of the sauce.
Main courses include too many chicken options, too few veal, two beef, and only one fish option. I ordered veal piccata ($15), in which thin medallions of veal are sautéed with mushrooms in a lemon and white wine sauce. This was well-prepared, although I prefer a little more pungency in the flavors.
Another in our party ordered a special of lamb chops. The five little chops were grilled and served with a demi-glace and mashed potatoes. As with most entrées, this was served with a perfect little cluster of steamed miniature vegetables, still crisp, and included a couple of zucchini and corn cobs no bigger than your little finger.
The gems on the dessert tray are made by Denise Rosselli, and focus on chocolate. There are also sorbets, if you're looking for something lighter.
Owner Enrico Rosselli has big plans for his restaurant; expansion is scheduled to begin in January. If you walk past the kitchen on your way to the bathroom, you'll see why — your kitchen at home may very well be larger.
What is fun about La Dolce Vita is the incongruity. A restaurant that doesn't want to blare its name. A lovely spot on a rather seedy section of Woodward north of McNichols. Jaguars in the valet-guarded lot in the back. An inviting little courtyard behind a wrought iron fence, with al fresco dining in season. The powers that be at La Dolce Vita have a sense of humor: The second Sunday of the month is the pajama brunch. "Very Victoria's Secret," says Cicala.
Live music Thursdays through Sundays, with jazz artists alternating with acoustic guitar, gypsy strings and others. Kathy Kosins is a regular. There's a full bar.
Elissa Karg dines for Metro Times. E-mail [email protected].