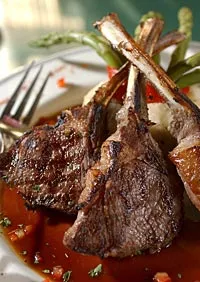 Sweetest Day is hot at Boodles, a fixture for 18 years at the corner of 11 Mile and I-75. Couples sit close, sequins sparkle, a black feather boa blinks with red Christmas lights. Piano music softly plays Frank Sinatra, "My Funny Valentine." A woman in a red sweater snaps her fingers and sways to the music.
Despite the attempt at romance, we found the atmosphere hokey, but clearly there is an audience for it. (Our very fussy teenager pronounced, after five minutes, "We came on the wrong day.")
Boodles is kind of a guy place. Steak dominates the fare and there's nothing on the menu that would make a meat-and-potatoes lover squirm. A red wine demi-glace is as innovative as it gets, but top quality cuts of meat make up for whatever might be lacking in creativity. And, as we'll tell you about later, service is a serious issue that needs attention from management.
Presentations are classic: filet mignon served with garlic mashed potatoes and onion rings, Black Angus sirloin (12 oz. for $20, a pound for $25), veal Oscar, butterflied lobster tail, baby back ribs, fettuccine Alfredo. Six dishes under the heading "VIP" are flambéed at two stations in the dining room. The cook brings a plate of raw steak to a nearby diner for approval, as though it were a bottle of fine wine. Then he turns up the flame under the frying pan, and when it is very hot, the meat snaps and pops in the hot oil. The cook uses nothing but a pair of serving spoons, held like chopsticks, to maneuver the meat. Flames leap toward the ceiling when the brandy is ignited.
All of the entrées we tried were very good: seafood strudel ($16.95, $21.95 on Sweetest Day), fettuccine carbonara (prepared with chicken), veal Marsala, seafood marinara ($17.95, $21.95 on Sweetest Day). Sides are predictable, such as green beans. Soup or salad comes with entrees; the clam chowder, which we had in both the New England and Manhattan variations, is terrific. The salad is so-so.
Entranced by pyrotechnics, I ordered veal Marsala on another evening. Three medallions are lightly breaded, cooked and then sautéed with mushrooms and garlic. A fresh lemon is squeezed over all, and finally it is set afire. The resulting dish, served with rice, is delicious.
I was not finished with the fire, and ordered bananas Foster for dessert. It's sweet and gooey, and a lot of fun to watch.
Service that night was substandard. Our server began by complaining how tired she was, as she had to come in at 9 a.m. ("I didn't know they served breakfast," said the puzzled co-diner.) She brought my veal to another table, and, as I watched this drama unfold, I was glad to note that the diner to whom it was served kept his hands in his lap. We ordered dessert and 15 minutes later our server returned and asked what we would like for dessert. We were stricken with sticker shock when we got the bill: $29.95 for bananas Foster for two! ("I could have had steak," the co-diner mourned.) We paid up and I made a mental note to check the price before ordering. Our tab was rung up on someone else's credit card, and I made another mental note to go over the Visa bill carefully.
When I sat down to write this article I discovered that we were overcharged. The menu reads "Bananas Foster … $14.95." We paid double. When I called Boodles for background information, it was one of the first questions I put to a man who introduced himself as a manager. He verified that we had been overcharged, and I waited for him to suggest a remedy. After prodding, he said he was "just the kitchen manager." I said, "If I were the kitchen manager and a reviewer called me and presented this problem, I would take their name and number and make sure it got taken care of."
He did take my name and number and assured me that someone would call that afternoon. No one did. I'm sure this will get resolved eventually. Decide for yourself if it's worth the hassle.
Elissa Karg dines for Metro Times. E-mail [email protected].