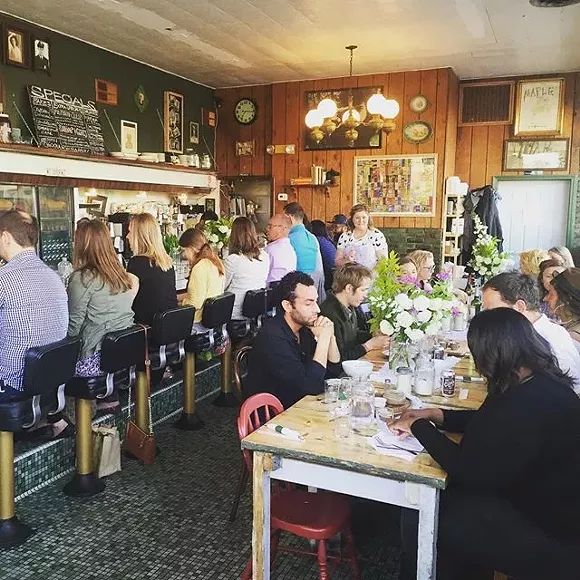 Detroit's food scene and accompanying renaissance/revival fanfare rhetoric is all the rage. So much so, even Bloomberg is telling New Yorkers to put down their weird, paper-thin pizza slices and take notice of the superior dishes to be found across Lake Eerie.
The
article
by
Bloomberg
correspondent Peter Elliot's seems intended to be a love letter to Motor City flavor, but alas, capturing the area's vibrant and diverse restaurant culture seems to be a task few, if any, are fit to handle.
The following is a list of the eateries and drinkeries(?) that made the cut. Feel free to read Mr. Elliot's commentary in your most exaggerated impression of a New York accent.
On a forlorn stretch of Michigan Avenue is the chicest and possibly the best Thai restaurant in America.

Using "forlorn" and "chicest" in the same sentence to describe Detroit, how New York of you.
In the heart of downtown, this Old World steak house competes with the best but ultimately wins by having a truly great wine list at fair prices.
Ok, the Chop House has been one of Detroit's swankiest joints since 1938, we won't scoff too much at tradition.
A symbol of the revival. Is it the best diner in America? Yes. It's also one of the best restaurants. Local fish, farm fresh eggs, Michigan asparagus, strawberries and more.
Farm-to-table + farm fresh eggs + Michigan strawberries/asparagus = a New Yorker's midwestern culinary wet dream.
It looks forlorn on the outside but go in and you'll find experts on every wine, a wonderful party space and a cool outdoor patio with great eats. Where the cognoscenti hang.
Again with the "forlorn"? Really?
In the heart of downtown close to the Cobo Center and GM, this restaurant offers a little bit of everything. The world-class bar up front is a smart way to get your bearings.
Wtf does "a smart way to get your bearings" even mean?
A foodie's dream. A great industrial space, a cool 'hood and the food, bar scene and garden are spot on.

Detroit's probably the only place in the world where you can get away with putting "'hood" and "the garden is spot on" in the same sentence, and actually, no one should get away with this. Ever.
The last of Detroit's infamous speakeasies. It's no longer a real one, but the drinks and vibe are first rate.

#vibes
In one of Detroit's oldest buildings, the handsome long bar has the best cocktails in town.
In addition to this fine list of restaurants, Elliot's article contains a few "insider tips" on how to navigate the hustle and bustle of downtown Detroit, they include:

1. Stay in a boutique hotel if you can find one.
2. Drive.
3. Take tours.
4. Go to Eastern Market.

We're not saying we expect every visitor to leave an expert, especially when it comes to the complex history of Detroit's food scene, but c'mon, at least try.

Kudos to all the spots on here though. Good for you guys.