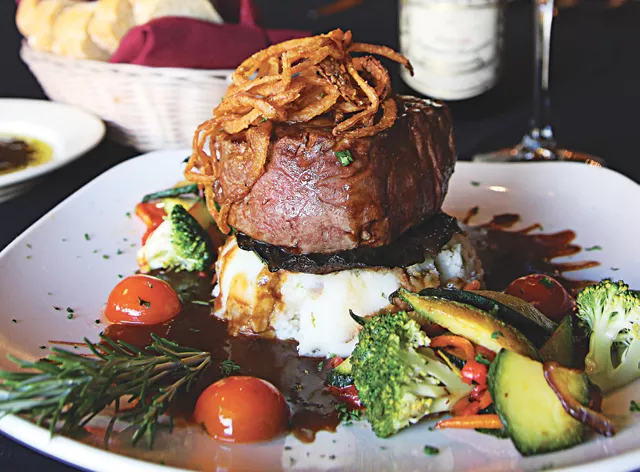 Ristorante Ciao
22023 Michigan Ave., Dearborn
313-277-2426
Handicap accessible
Entrées: $16-$27
Eat at the newly reopened Ciao and emerge feeling as if you've soaked in a bath of cream. It's hard not to be beguiled by foods this high in butterfat, and I was. Entrées with a tomato sauce of the kind most folks identify with Italian food are rare on Ciao's menu; mushrooms are more frequent. Of 14 pasta dishes, only five include a tomato sauce such as "Gorgonzola tomato cream."
The original Ciao burned more than two years ago. Owner and executive chef Hassan Aoun salvaged some of the furnishings, including some dramatic painted tiles from Italy, sponge-painted the walls of the former Parisian Bistro a few doors away, and reopened in June.
I re-read the review I wrote in 1999 when Ciao was new; it was filled with praise for the food and pans for the service (e.g., "on two visits, our server brought the wrong order threetimes"). Today the service is professional, if of the eager sort, where the waitstaff exclaims in delight over your choices. There may be women of a certain age who like to be asked, "Do you have ID, young lady?" I'm thinking of a 97-year-old I know.
We were charmed by nearly all the dishes we tried. The chef includes on his lengthy menu a few non-Italian dishes or ingredients such as chipotle mayo, Diablo sauce and Cajun-style tuna carpaccio. Surf and turf is called, to the best of the servers' ability, mare e monte — sea and mountain.
Aoun has brought back his two popular soups, mushroom and lobster bisque, both sublime. The creaminess of the mushroom is leavened with the bite of Asiago, a can't-fail combination. In the peach-colored bisque, the delicate, sweet-plus-nutty flavor of lobster beats out the cream by a bit.
The menu includes three calamari appetizers, and we tried two. I preferred the simpler "steaks," grilled and accompanied by tomato concasse; the vino bianco version is served with a thick, tart, citrusy sauce in which the delicate taste of the critters tends to get lost. Other starters are mussels, grilled portabella, caprese, shrimp, crab cakes and beef or tuna carpaccio.
Pastas are not presented as "primi piatti" (first course) or as a side dish, as in Italy. They are large entrées, with a soup or salad included. Both pastas that my partner and I tried were out of this world.
I had wondered why cook with vodka, since the liquor has no flavor and the alcohol evaporates in the heat. The Chowhound board had the answer. One Alan Barnes reminds us that some flavor compounds are soluble in alcohol but not in water, so if you want to bring out those flavors — especially tomatoes — without adding another flavor, like wine, vodka works perfectly. (He adds that this trick works even with unripe tomatoes, so maybe we can find a use for all those green tomatoes that still clogged our gardens deep into September.)
There are no tomatoes except sun-dried ones in Ciao's linguine alla vodka e salmone, but I can testify that their sweet flavor marries perfectly with that of asparagus, spinach and salmon in a "creamy, spicy vodka sauce." The diner finds something different in each bite, yet the whole is greater than the sum of the parts. It's pretty to look at too, with the red-green-white and then the pink bits of squeaky salmon.
Just as good are bocconcini con frutti di mare. (The word "bocconcini" literally means "little mouthfuls" but usually refers to buffalo-milk cheese balls, which don't appear in this dish.) It combines shrimp, mussels and sweet-and-creamy scallops in a Parmesan cream sauce; the result is very slightly salty in a way that speaks gently of the sea.
Some of the usual Italian meat and fish dishes are there, such as veal Marsala and chicken in lemon-caper sauce, as well as more universal offerings (New York strip with mashed potatoes). I loved my tuna steak arrabbiata. You might think tuna too delicate for an aggressive arrabbiata sauce, with its hot-pepper component, and indeed, the chef was careful to leave bare a portion of the fork-tender steak. I loved not only the rare meat but the sweet-hot sauce that did not overwhelm. It was served with creamy whipped potatoes and a perfectly cooked mélange of vegetables.
A special of tilapia was fine (and large) but not as tasty — it was breaded. Its risotto accompaniment came topped with a little tree of rosemary and tasted of it. Other seafood dishes are potato-crusted salmon, shrimp and lobster.
For somewhat lighter dining, there are six upscale, stone-oven-baked pizzas — tomatoes are either fresh or sun-dried, not sauced — and 11 salads that read deliciously.
A majority of the bottles of wine are not Italian, as Aoun says his customers prefer California.
Desserts include bread pudding and a housemade cinnamon gelato. I tried a chocolate-Amaretto confection: intense, dense chocolate, ethereal white chocolate mousse and even lighter whipped cream. Transcendent.
Ciao is open 11 a.m. to 2:30 p.m. Monday through Friday, 5 to 10 p.m. Monday through Thursday, and 5 till 11 p.m. Friday and Saturday.