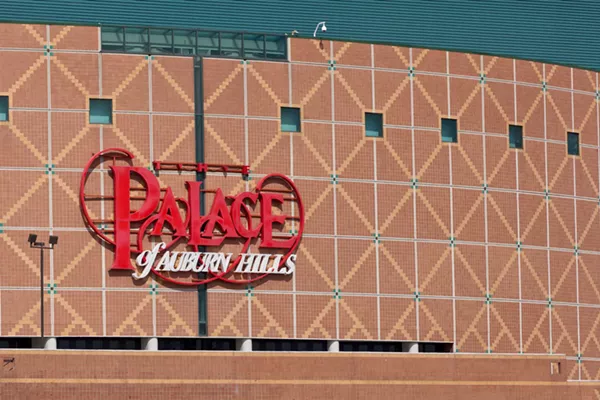 The Palace Of Auburn Hills ran some exceptionally gross kitchens, according to an
ESPN
analysis
of health department records from 2016 and 2017.
The sports media giant's
Outside The Lines
page looked at 16,000 local health department records produced by health inspectors after visits to the nation's 111 major sports venues. It found that The Palace had the second highest percentage of concession stands with "high level" health code violations — 86.1 percent. It received 36 violations, of which 31 were considered "high level."
The Piston's new home — Little Caesar's Arena — is also pretty gross,
ESPN
found. In 2017 alone, it had 41 health code violations, of which 11 were considered "high level."
"At about 28 percent of the venues, half or more of their food service outlets incurred one or more high-level violations, the type of unsanitary conditions or omissions that can pose a risk for a foodborne illness,"
ESPN
wrote in the piece, "
What's lurking in your stadium food?
"
The violations run the gamut: chicken, shrimp and sushi festering at dangerous temperatures that can breed bacteria; employees wiping their faces with their hands and then handling food for customers; cooks sweating over food; beef blood dripping on a shelf; moldy or expired food; dirty utensils or contaminated equipment; and the presence of live cockroaches and mice. Less serious but still icky: dirty floors, fruit flies, pesky pigeons and, in one venue, beer leaking from a ceiling.

A health department inspector found the mouse in a commercial-size bag of Cracker Jack at Coors Field in September 2016, along with five live cockroaches in a trap in a storage room. Two weeks earlier, inspectors had found copious amounts of mouse droppings on a kitchen floor, in food-prep trays, inside a bin of rice and amid bags of cookies that had been chewed. Dead mice were found, and another live one had been found.

At The Palace, among other violations, inspectors found "a gallon of milk past the expiration date in a cooler and chemicals stored next to bar syrups during a June 23, 2016, inspection. That was one of three priority violations at this location during the inspection." Inspectors also found workers who weren't using hair nets.
At LCA, inspectors found employees serving expired food and meat at temperatures between 84 degrees and 133 degrees. Meat is supposed to be at at least 135 degrees.
Regardless, eating at the Palace or LCA isn't necessarily a sentence to an evening in the bathroom.
Being slapped with a high-level violation — often labeled as "critical," "priority" or "major," depending on the jurisdiction —does not necessarily mean a venue is unsafe or unsanitary. After all, mistakes happen, no matter whether food is being prepped and served at a stadium kitchen, a fast-food outlet or a fine-dining restaurant. But stadium environments carry unique risks because of the large number of people being served in a short period of time, said Patricia Buck, co-founder and executive director of the Center for Foodborne Illness Research & Prevention.
But if you're not willing to risk it, stop at Harry's and fill up ahead of the game, or consider stuffing a cheeseburger in your pocket.
So many restaurants, so little time. Find out the latest Detroit dining news with our weekly food newsletter delivered every Friday morning.