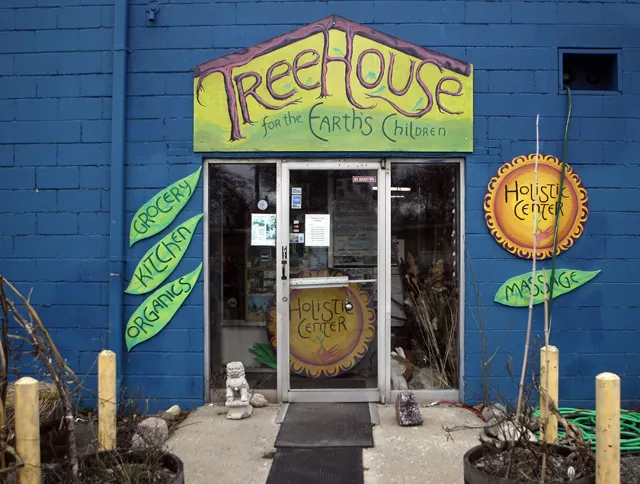 The Treehouse for Earth's Children Health and Holistic Center
22906 Mooney St., Farmington
248-473-0624
The Treehouse, which has occupied an unprepossessing blue-and-white building in the less affluent part of Farmington for 18 years now, evokes immediately all the stereotypes about very-health-conscious food. The shabby deli-cum-grocery-cum-supplements store looks like it hasn't had a makeover in 30 years. Dusty boxes carry labels like "soup recipe enema flyer"; you can find a self-published manual titled Drown Radio-Vision and Homo-Vibra Ray Instruments and Their Use, 1951, by one Ruth B. Drown. Shelves display dozens of big glass jars of herbs, spices and mugwort; cases exhibit a jumble of rocks, shells and a hornet's nest.
Manager Matt DiTonio Yanke says he doesn't even notice how the place looks, focusing instead on the kitchen. "We don't fool around," Yanke says. "We are extremely serious."
But set the setting aside, and you can find some tasty, inexpensive, certified organic meals at the Treehouse. The place is undogmatic about everything except "organic" and "no meat," serving both raw and cooked, vegan and eggs. There's even a salmon sandwich.
The Treehouse is perhaps best known for its 1 p.m. to 6 p.m. Sunday all-you-can-eat. The first two Sundays of the month are Mexican, Mediterranean or both, the third Sunday is 100 percent raw, and the fourth serves Dr. Max Gerson's diet — a regimen that uses no salt, dairy, nuts or processed sugars, "our most vegan day." (Gerson's diet won't cure cancer, as he claimed, but it won't hurt you to eat it for a day — and you can skip the prescribed coffee enemas.)
Sundays often involve a movie, short lecture or live music, such as Charlene Berry on the hammered dulcimer. I visited on a Mexican-Italian afternoon when Koyaanisqatsi was playing and found platters to lure in the nonbeliever — chocolate chip pancakes — as well as those for the hard core. Few of the many dishes on offer required good teeth.
"It's like heaven," I overheard a nearby diner say. "All week you eat food that tastes like paper, and then you come here. ..." She could have chosen among two lasagnas, raw and pasta, house-made tortillas with "taco nuts," scrambled eggs and hash browns, a green salad, a very sweet, royal-purple yam-and-beet dish, shredded carrots and apples, and even a couple of raw "pies" and "cakes."
My favorite was the fiery nut mix — almonds, walnuts, pistachios — spiced with chilies. A salad of beet greens was pretty grassy but well and subtly dressed. Scrambled eggs were replete with vegetables and onions; hashed browns were unfortunately limp. A kefir kombucha punch — fermented milk and fermented tea — was quite sweet and thick. It's tough to create a crust if you won't cook, so very sweet raw apple pie had none on the bottom and just a little crumb crust on top. Raw carrot cake was really a pudding, topped with coconut, the texture baby-like but the flavors complex.
During the week, patrons can eat in or carry out soups, salads, sandwiches, mixed juices or smoothies, and raw dishes such as spinach lasagna, nori rolls or lentils soaked in Bragg-brand liquid aminos and balsamic. The overall customer favorite — and I heartily agree — is the Avocado Delight sandwich, served on various sautéed Avalon breads with cream cheese or zucchini hummus or cilantro pesto. The sautéing imparts a toasty flavor that works well with the richness of the avocado.
Also good was a nutty wrap, a mix of nuts and seeds sautéed in olive oil, spicy hot, crunchy with raw onion. Less successful, to my taste buds, were a vegetarian chili — like baked beans with ketchup — and a nontraditional Caesar salad made with tomatoes, onions, shredded mozzarella, whole grain croutons and a sweet dressing.
Part of the challenge at the Treehouse, says Yanke, is "trying to make healthier food taste like older food." They're trying to entice people "used to eating food that is more commercialized" but "you don't have the luxury of adding whatever you want" — unlike a regular kitchen, where a big dab of butter will improve any dish. They come close, he says, with a veggie burger that uses dulse — purple seaweed — to make it salty: "If I close my eyes, it tastes like a turkey burger." Some might call that damning with faint praise, but at the Treehouse it's aspirational.
House-grown wheat grass is pulped into juice, $3 an ounce. Veggie juices are many, including chard and collards besides the usual. I loved a couple of smoothies: Cocarob Monkey, made with coconut, carob and Rice Dream non-dairy beverage, is not overly sweet. Chai Dragon is just tea, honey and vanilla and is mellower and fuller than that sounds.
As often happens, some of the standouts are desserts, where sweetness is expected and desired. I enjoyed a piece of walnut fudge and a peanut butter cookie; both were sweetened with dates. Chef Clarice Meinke has won awards at raw food events for her turtle bar — a walnut-and-date paste wrapped around a mix of pistachios, cinnamon and carob, topped with carob and coconut oil.
You may choose to be skeptical of the display by the Treehouse cash register: pictures of plums grown under six different planet configurations. Telescopes and mirrors were used, we read, to shine the beams from different planets on the developing plums and turn them distinctive colors — that were then passed on to the next generation of fruit. But you don't have to swallow the whole Treehouse package to scarf up some nourishing and wholesome treats.