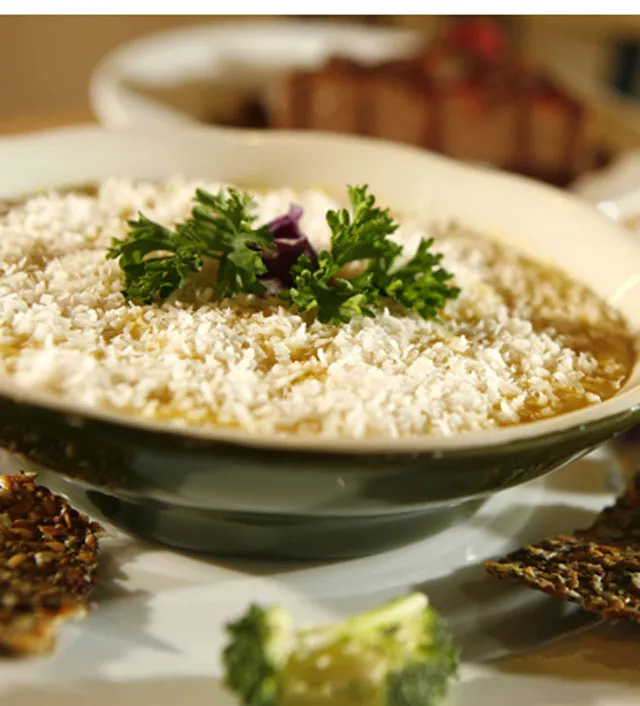 RAW Café
4160 Woodward Ave., Detroit
313-778-9774
I promised myself not to use such words as "virtuous" or "sinful" when writing about the RAW Café; there's too much of that already, with chocolate, steak and whipped cream playing the role that avarice, pride and cruelty used to play in our moral reckonings. I'm quite willing to listen to Jonathan Safran Foer argue why Eating Animals (his new book) is wrong, or to discuss the undeniable virtues of sustainability. But I'm tired of hearing folks equate "bad for you but delicious" — or even just "delicious" — with "depravity." Let's leave calories and taste out of the morality equation.
So is the food at the new RAW Café — none of which is cooked — delicious, convenient, healthful, a bargain or any of the other factors we might use in deciding whether and where to eat out? Mostly yes.
Since it's vegan, it's pretty uniformly healthful. (Organic too, which in the wider world has lost its connection to health. I saw a jaw of peanut butter recently that proudly listed organic palm oil and organic sugar as ingredients.) Many of the RAW dishes I tried were certainly tasty, though not as fabulous as those at the Red Pepper Deli in Northville, truly a revelation. RAW has a great midtown location in a striking all-windows space — the former CPop Gallery — that invites hanging out, though without coffee, and only till 6 p.m. Prices are a little on the high side — $12.99 for entrées, $4.50 for smoothies — sometimes for smallish portions.
The menu includes soups, salads, sandwiches, pasta, pizza, desserts, smoothies and juices. They're the work of LaKeta McCauley, who attributes her recovery from breast cancer to her switch to a raw vegan diet. McCauley is eager to spread her views on the healing powers of food. "We don't know the power of garlic!" she enthuses.
At the same time, McCauley knows that raw can be a hard sell, and says, "We want people to have a meal they're familiar with, that doesn't deviate tremendously from the taste and from the texture they're used to." Thus the use of a dehydrator to warm foods up, never higher than 118 degrees. When a kitchen worker explained a delay by saying "your food's still cooking," that's what she meant.
Temperatures of served foods varied, I found, so you might want to ask or specify if you want warm. Avocado lime soup, for example, would make a refreshing summer dish. It's thicker than most soups, velvety rather than creamy, actually pretty sharp, what with the lime and some cumin. It's served with small slices of pressed-seeds-and-nuts crackers. Thai curry coconut soup, served warm, is even better, an inviting mustard yellow with a lot going on, more ginger and lemon than coconut. It comes with garlicky crackers. Other soups are tomato basil, Mexican chili and creamy cauliflower.
Sandwiches venture further from the mainstream, with less successful results. This is because of the unhandy nature of the bread, which most folks would call a cracker. Crackers crack, especially when you bite them, and the sandwich innards squish out on one or more sides. Don't order a RAW sandwich to go and think you'll eat it one-handed in the car.
The small avocado basil sandwich includes purple cabbage, carrot and onion, so it looks pretty. The RAW burger is denser and chewier than a veggie burger, adding to the slide-out-the-sides problem. It's made from nuts, seeds, portobello — and carrots, to lend a meat-like consistency. Plentiful little onion rings coated with cayenne, cumin and flaxseeds are quite tasty, if not the sweet treat we've come to expect from onion rings. (Cooking breaks down complex molecules into smaller ones, including, in the onion's case, chains of fructose.)
All the entrées are "pastas" made of thin-sliced squash. RAW-violi are not, therefore, little stuffed pockets but layers with some decent tomato sauce between and on top. Lasagna is more squash, with basil leaves and a mild arrabiata-style tomato sauce.
Juices and smoothies are familiar — strawberry-banana — and less so: spinach-pear. The latter is army green but thoroughly pear in taste. Again, would be great on a hot day. Strawberry-banana tastes like cantaloupe! And the ginger drinks, with apples and carrots or beets, are good and zingy — perfect for winter. In the absence of coffee, they'll wake up your taste buds if not the rest of your head.
I loved both chocolate-type desserts I tried, especially the "Ginger-Orange Kiss Brownie." It's sweetened with agave nectar and made from ground cacao rather than chocolate (to make chocolate, you have to roast cacao beans). Chocolate and orange are already an inspired combination (you should be so lucky as to get a "Terry's Chocolate Orange" in your stocking this year), and the ginger kicks it up two notches.
"Chocolate 'Chocolate' Pudding" was, to be sure, not like a top-flight chocolate mousse, but it was chocolatey enough, certainly acceptable (though my vegetarian companion sniffed, "There's something about health desserts ..."). It contains avocado for richness and texture, plus dates and raw cacao powder.
The RAW Café is worth checking out. Winter hours are from 11 a.m. to 6 p.m. Monday through Saturday.