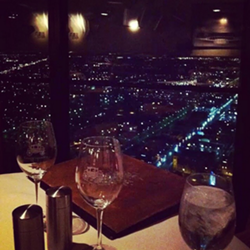 The Top Of The Pontch on the 25th floor of downtown Detroit's Crowne Plaza Hotel recently closed, making it the second top-of-the-tower restaurant to shutter in recent months.
According to a post on the Pontch's Facebook page, the space is now used for private events. Its closure follows
that of the Coach Insignia
, which operated for 13 years from the 72nd floor of the Ren Cen, though a new restaurant is expected to open in its place.
That leaves us wondering if the appeal of skyscraper dining is a thing of decades past, or if the restaurateurs aren't presenting an appealing product.
While it's unclear why Coach Insignia is no more, Eater
reports
that the Pontch went through a couple kitchen shake ups since it opened in 2014, so it could be the latter issue that drove the restaurants out of business.
And in an
increasingly crowded downtown dining market
, a sparkling view might not be enough. That's what
MT's
Jane Slaughter noted when she reviewed the Top of the Pontch in 2015.
She found that most every dish "was way above stellar," but wrote that she wasn't convinced that most people would feel it was worth the price and effort.
"Maybe what's intimidating is ascending 25 floors to a fancy place downtown, rather than just dropping by a neighborhood spot. And yeah, the prices ... you wouldn't pick Top of the Pontch unless you were planning to go all out."
So is Iridescence onto something?
The Pontch didn't offer much of an explanation.
From its Facebook page: "
Unfortunately, we must suspend our dining service at Top of the Pontch until further notice. We will be upholding our dedicated service team and standards through private events on the 25th floor, as well as within our Urban Cellars dining space.

"Follow The Jefferson House Facebook for some exciting new developments in the coming months for our Jefferson House dining room and Urban Cellars bar."