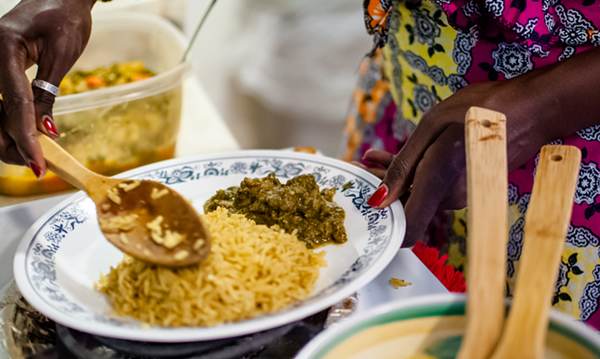 It didn't take long for diners to clear the buffet at the last Baobab Fare pop up in August. Those of us who showed up early got our first tastes of its East African cuisine, but a line of diners walked out with empty stomachs.
On Sept. 14, everyone has a second chance. The
Hatch Detroit winner
is popping again at The Brooklyn Street Local with the same menu/buffet as before.
That includes:
Rice pilao (spiced rice with beef and veggies)
Coconut rice
Burundian yellow beans
African vegetable stew
Spinach with peanuts
Marinated chicken and onions
Boiled and friedplantains
Ginger-passionfruit juice
African Tea
Last month we
profiled owners Nadia Nijimbere and Hamissi Mamba
, who are refugees from Burundi. They landed in Southwest Detroit's Freedom House several years ago as they sought political asylum and are now planning a brick and mortar East African restaurant, which will likely open in West Village.
What's the food like? Everything on the buffet is excellent, though the spinach with peanuts and rice pilao stand out. As Mamba previously explained, the manner in which Burundians go about cooking and preparing meals is different than in the U.S.
"The concept is different because the way people live and eat here, and live and eat in Africa is so different," he says. "We don't have refrigerators there, so we cook every single day. We go to the market, buy food, and cook, then eat. We do that every single day."
Since there isn't a lot of money to buy oils and ingredients for cooking, a lot of the simple dishes rely on spices grown on families' land. Mamba describes them as flavorful spices, but not hot.
Dishes are heavy on vegetables like green pepper, onion, tomatoes, garlic, and celery. That's all cooked with lemon and spices like white pepper, black pepper, curry, cumin, oregano, and garam masala.
The event starts at 6 p.m. and a $12 donation is suggested. For more information, visit Baobab Fare's
Facebook page
. The food is in demand, so show up on time.