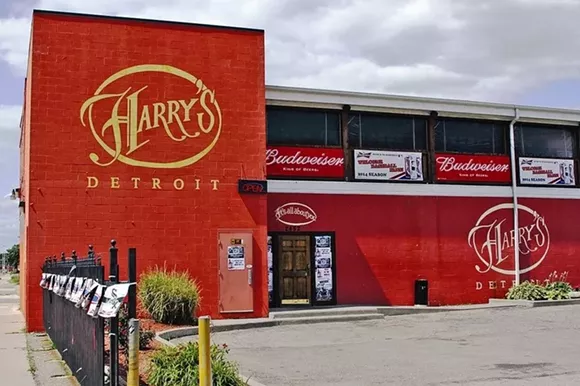 Back in 1994 when Harry Kefalonitis bought Harry's bar just outside of downtown, he had a feeling he was sitting on a goldmine. It was within walking distance to the theater district, not too far from Tiger Stadium, and it made for the perfect shot-and-beer joint for the many blue collar tradesmen in the area.
Never mind that downtown in the '90s was dead, save for a handful of divey bars on Henry, between Woodward and Cass.
"This was the traditional entertainment center of the city, this was where all the bars and all the theaters were so I always knew it would be that again," Kefalonitis tells us.
Now, more than 20 years later his hunch could be paying off in a big way. One of the last remaining watering holes on a small stretch of Henry Street, Harry's sits mere yards away from what will be the main entrance of the Red Wings Arena, which by Kefalonitis' estimate, could mean a huge pay off. In fact, he tells us he's heard some 1 million people are expected to pass through the arena and surrounding entertainment district a year.
Construction on the arena began last fall, and is expected to be completed by the end of next year. The 45-block area, situated between Woodward and Clifford, with Henry Street bordering the south side, is to feature a mix of retail, restaurants, office space, and housing for hundreds of new residents. Behind the bulk of the development is Mike and Marian Ilitch's Olympia Development.
For Kefalonitis, the development couldn't have come sooner. When he purchased the property, which sits at Henry and Clifford, greater downtown was but a shadow of what it's shaping out to be today. He was convinced that it would only be a matter of time before the city center would rebound, but growth for his bar like the promise of downtown's renewal, encountered several false starts. When Comerica Park opened in 2000, and Ford Field in 2002, he expanded the space. In 2008, he added a second floor, complete with a covered patio space. he also owned secure parking. While the expansion set the stage for success, it had been slow going.
One of the main focuses he hoped would draw in crowds, was the spot's menu. Nowadays, it seems that a new gastropub featuring craft beers and gourmet burgers is opening up every few weeks in Detroit. Meanwhile, Kefalonitis says he's been at it this whole time, offering up creative takes on traditional bar food, like the Ultimate Chicken Burger, the Campus Martius vegetarian sandwich, and the green chili meatloaf.
We stopped in on a recent Monday night, during the spot's weekly $1 burger special. The place was buzzing with a cross-section of customers. Some were celebrating a company holiday office party. Others were hooked to whatever game was playing on the many TV's. And the playlist, a mix of hip hop, Top 40 and classics was bumping. And sitting at a corner booth was Kefalonitis, who shared with us that the bar for has been about more than just speculating on a brighter economic future for downtown. He says he's bounded to the area. Both his father and grandfather owned bars on Henry Street years prior. He used to help his dad out behind the bar. And asked if he thinks he'll try to cash in and sell to Olympia Development, should the opportunity arise, he said it simply wouldn't be worth it.
"This can sustain a few generations, hopefully, who knows," Kefalonitis tells us. "My sister and I, we have children, we want to pass something along. I just don't know how you monetize that."