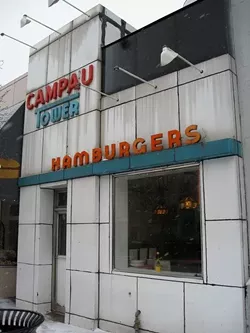 DUE TO this week's Blowout, we're presenting this handy shortlist of Hamtramck's humble culinary destinations. They're uncommonly cheap and sometimes open late. But they can lay the foundation for a night's drinking, quell late-night hunger pangs, or nourish away that morning hangover.
Al-Qamar Halal Pizza 10240 Conant St.; 313-875-5592; $: Even though Al-Qamar is known specially for its halal pizza, the menu isn't limited to that alone. A huge variety of subs, shawarmas and gyros are also a popular hit among the customers.
Aladdin Sweets & Café 11945 Conant St.; 313-891-8050; aladdinsweet.com; $: What Aladdin lacks in china and stainless steel cutlery it more than makes up for in flavor and authenticity. The food is simple and good. Often open as late as midnight.
Amar Pizza 11608 Conant St.; 313-366-0980; amarpizza.biz; $: This little Bangladeshi-American pizzeria serves some of the most unusual — and flavorful — pies in town. Amar makes round, square and deep-dish pies, and it only gets more interesting from there. They can make pies with a spicy naga sauce, or with ghost peppers, once recognized by Guinness World Records as the hottest peppers in the world.
Café 1923 2287 Holbrook St., 313-319-8766; www.cafe1923.com; $: Built in 1923, this former corner store has been lovingly restored with the period details that now make it such an appealing coffeehouse. Art exhibits are showcased along the walls featuring local artists. Free WiFi.
Campau Tower 10337 Joseph Campau St.; 313-873-7330; $: They've been a fixture in Hamtramck for as long as anybody can remember, as a ghost of the old White Tower chain. At night, when the bar crowd rolls in, the handful of stools in front of the counter fills up with night-clubbers and bar-hoppers. Don't worry if the seats are all taken; Campau Tower offers carry-out service. Open all night long. Cash only.
Grandy's Coney Island 1200 Holbrook St., Detroit; 313-875-3000; $: This little drive-through just outside Hamtramck (and right near the entrance ramp to I-75) has friendly service and, best of all, always gets our order right! Open all night Friday and Saturday.
L. Georges Coney Island 11444 Jos. Campau; 313-366-2244; $: The L. George Coney Island chain has stepped in to operate the old Clock Restaurant. It's your classic all-night diner, with plenty of booths and tables to accommodate those looking to enjoy a post-bar meal. Should be crowded and interesting Friday and Saturday night.
Maine Street 11650 Joseph Campau St.; 313-368-0500; $: Serving stick-to-the-ribs diner fare, Maine Street may not be a late-night hangout (even though it closes at 11:30 p.m.), but on Saturday morning it's a likely spot to see the people you partied with the night before, probably at the full-service bar. Breakfast is served anytime, except it costs $1 more after 11 a.m.; however, even then it's worth it for the enormous omelets they serve. Closed Sundays
Polish Village Cafe 2990 Yemans St.; 313-874-5726; $$: Digging into a big plate at Hamtramck's Polish Village Café might have you suppose you're eating food prepared by somebody's Polish mother. That's because, essentially, you are. During peak dining hours there's a steady flow of waiting customers first lining up at the bar and sometimes winding up the stairs and out the door. Cash only.
Polonia Restaurant 2934 Yemans St.; 313-873-8432; $: Polonia still serves authentic Polish fare, taking special pride in its freshness. Feel at home amid the cozy booths, the colorful Polish knickknacks on display and the aromas of Polish home cooking. There is no real sit-down bar, but drinks in all forms are readily served. Open seven days a week and there are several daily specials.
Royal Kabob 3236 Caniff St.; 313-872-9454; $: Royal Kabob provides everything from an ambitious platter to a humble falafel sandwich. And those sandwiches are deals: A falafel sandwich is $3.55, as are the four other vegetarian sandwiches. For carnivores, meat-kebab sandwiches are $3.95. As for their entrées, they're big enough to guarantee you'll leave with a box.
Sheeba Restaurant 8752 Joseph Campau; 313-874-0299; $: Inside, orange booths line two walls with a few tables running through the middle of the space. A menu board in Arabic and English hangs above the small counter. Little English is spoken, and even pointing at the menu doesn't guarantee that you'll receive what you thought you ordered. Fortunately, all the food is good.
Three-Star Bar B Que and Lounge 11941 Joseph Campau St.; 313-365-9494; $: Good old-fashioned comfort food in an environment your parents might approve of. But that's hardly a strike against it. Three-Star offers dine-in, carry out, delivery and a full-service bar. Hearty breakfasts start at 7 a.m. and drinking hours extend until midnight on Friday and Saturday.
Yemen Café 8735 Joseph Campau; 313-871-4349; $$: The menu's long list of unusual Yemeni fare can challenge the Western diner, but we often order the gallaba, meat or vegetable, a stir-fry of ingredients that comes with bread or laid over a bed of rice. A few blocks south of the Painted Lady and New Dodge Lounge.
ZamZam 11917 Conant St.; 313-893-9902; $$: Situated north of Caniff on Conant in a building previously occupied by another Indian restaurant, ZamZam offers a full menu of Bangladeshi, Pakistani and Indian cuisine from lunch through the late evening. Open 11:30 a.m.-11 p.m. daily.
$=$5-$10; $$=$10-$25; $$$=$25-$50; $$$$=$50+
See any inaccuracies or omissions? Let us know! Send an e-mail to [email protected] or call 313-202-8043.