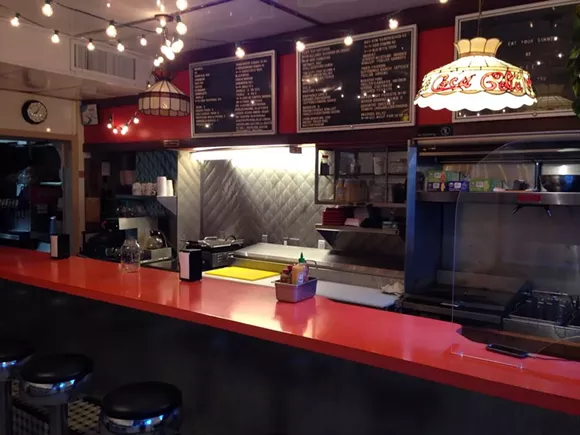 Hamtramck late-night haunt Campau Tower is saying goodbye to lunch service, but in doing so will now be open late night seven days a week.
Jessica Imbronone Sanches, who co-owns the greasy spoon with husband Nikita Sanches, tells us the move is to focus primarily on catering to the city's late-night crowd.
Last week, the Sancheses
re-launched
Rock City Eatery in its new Midtown location after shuttering its smaller, original spot in Hamtramck. The two had previously said they would continue operations at Campau Tower after the move.
The couple have remained tight-lipped about the diner's future, though we have seen unconfirmed comments on Facebook page that a number of "surprises" are in the works.
The couple had resuscitated Campau Tower (adding The Americana Eatery to t the title) two years ago after its previous iteration abruptly closed. Prior to the takeover, the spot was open 24/7 and offered super cheap sliders and coffee. Before that, the location was a White Tower (a competitor to White Castle). Under the new ownership, bigger burgers with interesting toppings, plus hot dogs, tots, and other more chef-inspired fare replaced the old menu - though at higher prices. The spot also did away with 24-hour service, instead opening during lunch and again after Rock City closed its kitchen.
While the higher tickets have meant losing some of its blue-collar clientele, Campau Tower has maintained a loyal following among night owls - many of whom keep late hours working in the food and bar scene or performing in bands.
We'll be sure to keep you posted if/when any "surprises" come to fruition. Campau Tower is at 10337.