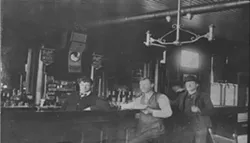 As promised, we said we would update you on future dates for the sold-out "Cheers: The Story of Hamtramck's Bars" event, hosted by the Hamtramck Historical Society.
We wrote yesterday
that the presentation, which seeks to highlight the notorious past of the city's watering holes, quickly ran out of space.
In response, historian Greg Kowalski tells us that a second round will be offered at 2 p.m. Sunday, Jan. 31 at the museum at 9525 Joseph Campau. Unlike Thursday's event, reservations will not be required and there will be no dinner provided. The cost to attend will also be lower, at $5 for the general public, and $4 for Friends of Historical Hamtramck.