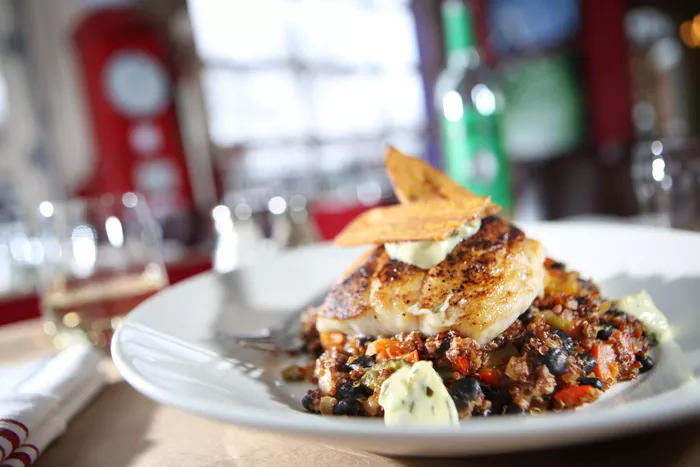 Red Crown
15301 Kercheval Ave,
Grosse Pointe Park
313-822-3700
Appetizers: $4-$18
Sandwiches and Salads: $9-$15
Mains: $18-$30
Open 11 a.m.-10 p.m. Monday-Saturday;
Sunday brunch runs 10 a.m.- 4 p.m.
Red Crown is part of a growing business district on Kercheval in Grosse Pointe. Housed elegantly in an old Standard Oil service station, the restaurant advances the growing trend of placing stylish restaurants in old, repurposed buildings. That said, it's been a turbulent year for the restaurant; after nine months of being open, the restaurant changed hands and underwent a bit of a revolution. It emerged with an expanded menu and a fresh focus and drive that brought a new glow to the place, helping the owners achieve their stated goal of making their guests "feel welcome and well taken care of — kind of like being asked over to a friend's house for dinner."
Red Crown exploits the beauty of simplicity in its interior; red and white accents abound, from red curtains punctuating white painted brick walls to red sauce bowls on white plates. Decoration is minimal, focused more on creating a comfortable and relaxed atmosphere, and such details as antique-styled light bulbs wink at the building's history.
The servers at Red Crown are friendly and casual. They're not afraid to share their opinions on the food; they display a thorough understanding of specials and menu items, proof of (if nothing else) a dedication to loving food. The happy side effect of this knowledge is an informed dining experience — the food on the plate is made all the better by the deft description the service staff can offer.
The menu is long and full of options. We started with a plate of truffled fries: herbaceous, with just enough truffle oil, and simply delightful. The salads on offer are well-executed, and we found the kale and quinoa salad to be an unusual delight.
There's a burger at Red Crown that won the Detroit Burger Brawl's "Best Flavor" category. No more need be said. The brisket plate is fantastic; get the greens and butter beans, or beg for extra cornbread — Northern-style, soft and bready — it's marvelous. Those expertly braised greens — just enough vinegar — and smooth, bacony butter beans also accompany the smoked and grilled Berkshire pork chop, which is massive and flavorful. Otto's chicken (raised naturally in Middleville, and of unparalleled quality,) appears as an airline breast, with mushroom cream sauce and scallion rice; the chicken is some of the best you'll ever eat, an honest and authentic reason to rethink what, exactly, "tastes like chicken." Specials range from clean fish presentations to a pot pie of the day; they reflect a thoughtful approach in the kitchen, as all the dishes, even the specials, embody the restaurant's casual appeal: there's a strong Southern flair, a barbecue sentimentality about the food, and a feeling of comfort throughout.
The sprawling dessert list is tempting, running from fresh hot pie with ice cream to giant slices of triple-layered cakes, with several flavors on offer, though particularly delicious in red velvet and chocolate. They're all made by a skilled pastry chef, and are decadent, sweet and seriously satisfying. It's easy to leave a little extra room for dessert.
Craft is emphasized at the bar, on multiple levels. The cocktail menu is delightful, including 22 specialties spanning time and style; from the Last Word, a Detroit Athletic Club original from Prohibition days, to Cherchez la Femme, sure to delight those less tolerant of an alcohol burn in their drinks. The beer list focuses on Michigan brews, with four rotating taps and more bottles and cans; there are also four wines on tap — yes, on tap, thanks to a technical innovation that works rather well. Everything at Red Crown is worth drinking — and there's a very lively bar crowd that stays late into the evening, attesting to the skill of the rotating trio of bartenders and the quality of the libations.
Red Crown might well be the crown jewel of Kercheval. With quality bartenders, passionate servers, a chef-owner who stays around after he's done for the day to talk with a devoted crowd of regulars, everyone involved in Red Crown seems dedicated to making every guest feel like they'd been "asked over to a friend's house for dinner."
In that sense, Red Crown is a friend worth making.