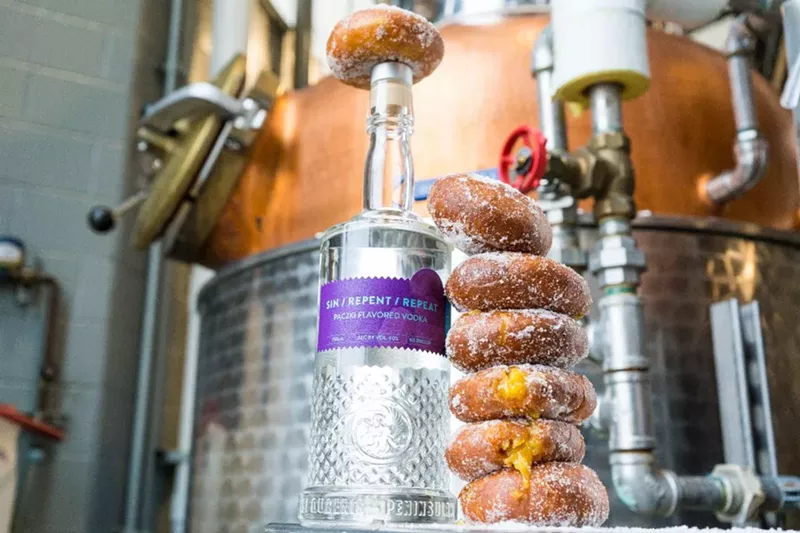 This year's Fat Tuesday is shaping up to be a delightfully sinful mess.
In addition to Detroit City Distillery's popular Paczki Day Vodka, Griffin Claw Brewing Company is also releasing a paczki-flavored vodka — and a beer.
The company named both "Sin, Repent Repeat," a reference to the reason for the season, of course — indulging before the solemn religious observance of Lent, commemorating the 40 days Jesus spent fasting in the desert while enduring the temptations of the devil. (Ya'll actually fast during Lent, right?)
This is the fourth year the company has brewed the beer, a stout, and the second year it has gotten into the paczki-flavored vodka game. Last year, Griffin Claw admitted it got the idea for the vodka from Detroit City Distillery.
"They did it first and did it well, we loved the idea. We always make a paczki beer, but we had way too many paczki for our beer recipe this year so we just threw them in the still," Griffin Claw's operations director Jason Schrider said last year. "We didn't make much as we didn't have too many paczki left, but it will be a fun addition to our beer for the vodka drinkers on Fat Tuesday."
That's right, to make paczki-infused vodka they literally just toss the fatty treats into a distilling still.
The company says the beer should be available in some local stores in early February ahead of Fat Tuesday, which is Feb. 21 this year. Both products will also be available in limited quantities from Griffin Claw's taprooms in Birmingham and Rochester Hills.
"We brewed a bigger batch this year, so it will actually hit a few local stores in limited quantities," Griffin Claw sales director Brian Arnold said in a statement. "It has been such a hit and sold out so quickly every year, so we wanted to spread the love, or sin, to more people and the accounts that support us."
The stout will also be released with their Paczki flavored vodka, also named Sin Repent Repeat and an annual favorite sold in limited quantities at their taprooms in Birmingham (575 South Eton St., Birmingham) and Rochester Hills (2265 Crooks Rd., Rochester Hills).
The company says it's also working on a stout brewed from Lucky Charms cereal for St. Patrick's Day.
More information is available at griffinclawbrewingcompany.com.
Coming soon: Metro Times Daily newsletter. We'll send you a handful of interesting Detroit stories every morning. Subscribe now to not miss a thing.

Follow us: Google News | NewsBreak | Reddit | Instagram | Facebook | Twitter