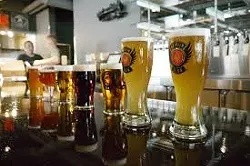 A Griffin Claw brewery will be a part of the DTE Energy Park that's under renovation at Grand River and Cass.
The
Free Press
reports that the 85-seat brasserie-style restaurant focus on Belgian-style beers. Its retractable walls will open during the warmer months to provide another 125 seats, and will feature a rooftop green space and dining area that's accessed by a grand outdoor staircase.
The park is expected to debut in July. No word yet on what the restaurant's menu will offer, and that part of the project isn't expected to open until fall.