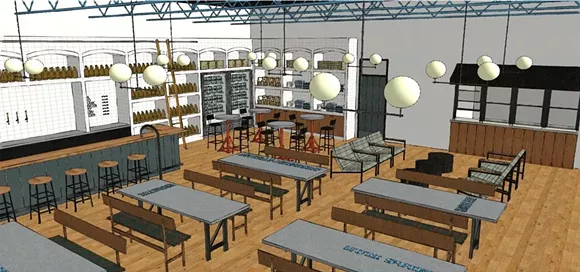 When Axle Brewing Company's taproom, Livernois Tap & Brewery, in Ferndale opens its doors sometime this winter, it'll have a heavyweight food team behind its menu.
Axle tapped (sorry) the culinary talent from Grey Ghost to head the brewpub's food program. The restaurant, under Four Man Ladder Management (includes chefs John Vermiglio, Josef Giacomino, David Vermiglio, and Will Lee), will manage both the kitchen and front-of-the-house aspects of the taproom.
Details about the menu have not been hammered out yet, but the chefs will find a way work their high-end steakhouse concept into a beer-friendly, mid-priced format (read: less $55 dry-aged ribeye).
Livernois Tap is being designed by Patrick Thompson Design to incorporate elements of European beer halls and modern American aesthetics, though, as
first reported
by the Free Press earlier this week, the food won't necessarily mirror that biergarten theme.
The Freep went on to say that the partnership was borne out of some discussion with Giacomino's wife, Jill, who was brought on to handle Axle's social media. She suggested the two chefs take a look at the taproom's plans for food.
Says Vermiglio in a statement: "Since opening this past summer, we've been welcomed to Detroit with open arms. Partnering with Axle, a company that shares our vision and drive, was a natural next step for us and we couldn't be more thrilled for what is to come."
Ahead of the taproom's opening in early 2017, a series of popups will be announced in the coming weeks.
See also:
Grey Ghost steakhouse delivers experience that's casual but expensive