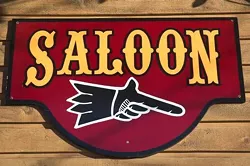 Coyote Joe's Nightclub 49440 Ryan Rd., Shelby Township; 586-254-4666; coyotejoes.com; $: Open Thursday, Friday and Saturday, this modern country nightclub plays the hottest country music of the day and claims to host the largest parties in the state. With over 10,000 sq. feet, there is a lot of room to move at Coyote Joe's, both inside and now out thanks to the recently added outdoor patio. Weekly drink specials and Free Party Night every Friday offering well drinks, draft beers and pizza all for the price of nothing. This Friday, the club is hosting a special post-Hoedown dance and if dancing's not enough, you can try your hand at the mechanical bull or enjoy one of the clubs 25 HDTVs.
Diamondback Saloon 49345 S. 1-94 Service Dr., Belleville; 734-699-7899; diamondbacksaloon.com; $: Claiming to be the "biggest and best" in the country, this western-style saloon gets crowded early and often thanks to its weekly deals and lots of dancing, helping it earn the moniker "Best Honky Tonk Bar" from Metro Times readers. Live music is played Wednesday-Saturday and on Fridays 99.5 WYCD drops in to spin the twangiest tunes from 9-11 p.m. Want to dance but don't know how? Diamondback offers dance instruction for every level, including free beginner lessons every Wednesday, from line dancing to hip-hop swing. If you have a great time at Diamondback you can even buy a hat or T-shirt to commemorate your night.
White Horse Lounge 12859 Eureka Rd., Southgate; 734-283-6620; $: Known to locals as the Pale Pony, White Horse offers cheap prices, a great crowd and diverse music from the jukebox playing all night long. If you feel like singing a tune, karaoke is open until the early morning hours. And if your day is off to a rough start at the break of dawn, don't fret, White Horse opens at 6 a.m.
Sunrise Sunset Saloon 15222 Charlevoix St., Grosse Pointe, 313-822-6080; $: Known for strong drinks and impressive decor, you'll feel right at home in this saloon, especially if you're a self-identified weirdo. The walls are adorned with items to match themes of hockey, cacti, cowboys and Native American. You'll find bull horns, a jackalope head and even a doll caressing a tiny horse all inside. The simple menu offers typical bar fare as well as home-cooked meals made fresh everyday. If you're not sure what to order, the friendly staff and regulars are ready to make suggestions. They'll even serve your beer in a boot mug, if you ask for it.
Green Dot Stables 2200 W. Lafayette St., 313-962-5588; greendotstables.com; $: This horse-themed bar is known for the golden horse on its roof and its variety of sliders, from pizza to Korean to corned beef to, if you're brave, mystery meat. Complementing the mini burgers are an assortment of french fry options, including venison chili cheese, as well as salads, soups and desserts. Everything on the menu, including cocktails and beers, is $3 or less.