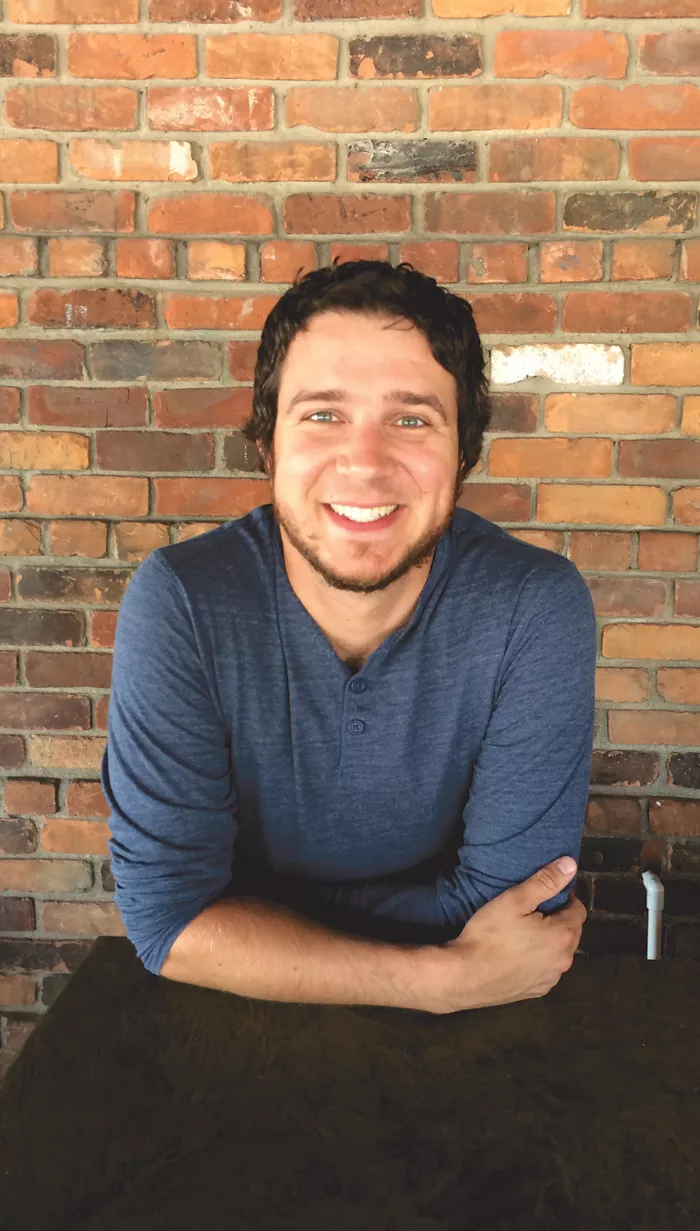 It was September of 2010 when some guy named Jacques Driscoll and his wife Christina emailed Metro Times wondering if they were crazy for considering leaving San Diego for their mutual hometown of Detroit. We put a reader poll on our blog and a resounding 88.5 percent of respondents said Detroit would be the right place for them.
In truth, it sounded as if they didn't need much prodding. The couple moved here in December, taking an apartment in Brush Park. Jacques found a job in Eastern Market, and by 2012 had bought Green Dot Stables. Our readers had a new chance to show their encouragement for Jacques, voting Green Dot the Best Restaurant to Spend Less Than $15 in Wayne County for both 2013 and 2014.
This summer, Jacques is hard at work with his successful restaurant and bar and also working on a new place, Johnny's Noodle King, which he hopes to have open by the end of summer. We spoke with him the other day.
Metro Times:Rather than talking about your restaurant that isn't open yet, I thought this would be a good opportunity to interview you in the magazine that was one of the first places that you reached to before you moved here.
Jacques Driscoll:Yeah, definitely. I'm pretty familiar with Detroit. I spent a lot of time here growing up. And I'm pretty familiar with the city and what was going on. In San Diego, we wanted to open a restaurant and couldn't really afford it. My wife's and my family were both here, and it just kind of seemed like the thing to do, especially with so much stuff going on in the city. It felt like a pretty good time to get involved. It's so hard to think back then what was going through our brains. So much as changed. I look at the city now and I thought maybe where we're at now would be where the city would be, like 10, 15, or 20 years of new development. There can be good and bad things, but it's just kind of crazy how that's happened.
MT:It's changing so rapidly.
Driscoll:Yeah, ever since we've been here. And I've probably been spending time in Detroit since I was like 15 or 16. I saw things when I came back from San Diego to visit — "Wow, the city has a lot going on here and lot of changes." And that was over a 10-year period. Over the last two years, I think it's been like 20 times that, and, you know, being on the inside, you don't notice it as much.
Metro Times:Yeah, I could see how that would be the case. I also like the way you went about it. Not only did you reach out to Metro Times and sort of take the city's temperature, but you also got a job in Eastern Market to sort of scope out the food scene?
Driscoll: I did. Well, yeah, it was sort of a couple of reasons. One, I needed to have a job. I kind of felt like a bum, we only had so much money saved and my wife was working full time. The first few months we lived here, I was looking for a possible place to do this restaurant. But I did want to get involved in the food scene. I lived in Brush Park at the time. It was close by. Being in the market, it's probably the best thing to be around food and whatnot.
MT:How did you come about to find out about Green Dot?
Driscoll: Actually, a friend of mine, Sean Mann …
MT: Oh, yeah. I know Sean.
Driscoll: He was more of an acquaintance and he became a friend. We knew each other for years back. And he was showing us around the city, like some of his favorite places. We'd go here and there and he took us to Green Dot and he's like, "This is one of my favorite places in the city." This was before it was for sale and it closed. We went there and had a really good time and it's this really cool place. Finally, it came on the market and Sean said, "You gotta buy Green Dot!" and I said I couldn't really afford it. It's kind of in the middle of nowhere. There's no traffic there. But, after we looked at 30 to 40 different places, we said, "Man, that place looks great. The atmosphere. Maybe it's a little off the beaten path but it's got a parking lot." We started thinking, "Let's put a offer." I put in a little offer thinking nothing was gonna happen. Then they accepted so we're like, "Oh! I guess that's what we're doing. It's happening." So, that's kind of the short story of it.
MT:Yeah, remember when that bar was under some previous ownership, I know it was sort of an old bookie-horse racing bar, and, before you bought it, it was a place where the front door would shut firmly and lock at 2 a.m.
Driscoll:Yeah.
MT: And then the back door would open wide and the place would stay open all night.
Driscoll:Yeah, I'm pretty sure the time that we went there, we didn't get there until about 3 a.m. I have a pretty vague memory of it. …
MT: So Green Dot has been a smash hit. The whole slider concept is great, with your small, finely made food, the drinks are terrific, then with the whole soccer scene going bananas, it's just such a winner. It just seems to get better and better.
Driscoll:Yeah, it's exceeded our expectations by a thousand. We kind of wanted, at least I told my wife, we wanted to make a local bar with cheap beer and a place we wanted to hang out. We really didn't plan for anything, but were assuming it was just be locals. We never really expected it to turn into what it did.
MT: And now you're already moving on to restaurant No. 2. You're planning on being open by September?
Driscoll:Yeah. We planned on opening, I think, January for our original day, but my wife got pregnant so we slowed things down a bit. We'll bring a new-style ramen house. There's nothing like that around here. It's very popular in a lot of other cities around the country and it's one of my favorite dishes to eat.
MT:In 2010, when Jess Daniel started her Neighborhood Noodle pop-up, that was very popular right away. So that's any indication of Detroit's appetite for noodles, you should be doing quite well.
Driscoll:We did three pop-ups and we sold out within, like, two hours. It's not as approachable as sliders, but I'm also confident that once people try it for the first time I have a feeling they're gonna be pretty happy.