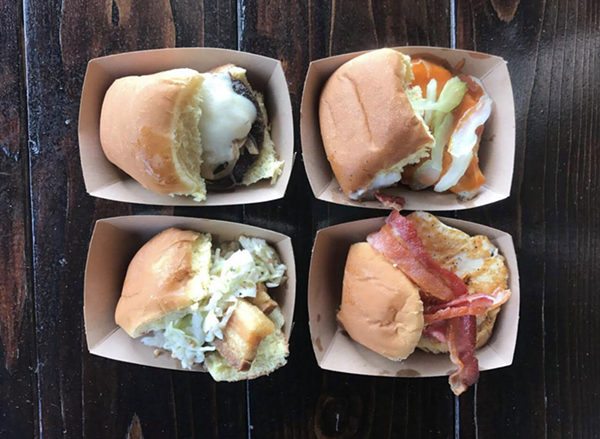 Michigan State University graduates Jacques and Christine Driscoll are returning to the Lansing area to launch Green Dot Stables' third location.
Doors for their newest craft slider and cocktail spot open at 5 p.m. today at 410 S. Clippert St., which is just south of Michigan Avenue in the former Whiskey Barrel. The 12,000-square-foot space was renovated to be a mirror image of the Corktown-area Detroit location.
Much of the menu will look like that of the Detroit shop, including $2 to $3 options like the pork belly char siu, catfish, corn cake, Korean, PB&J, grilled cheese, lamb vindaloo, fried bologna, and corned beef.
But the Lansing restaurant will have four to six sliders specific to it, and also offer poutine, fries, salads, craft beers, cocktails and desserts for the same $2 and $3 price point.
In a press release, Jacques Driscoll noted that the Lansing location comes with hand-painted floor murals, a gigantic bar, and a private room for large parties.
"We really wanted to make sure that this was an homage to the spirit of what once stood here but also to make it a place where people can come to meet up before or after a game or just to have a nice meal at the end of the day," he said.
Green Dot also runs a location in Malaysia.