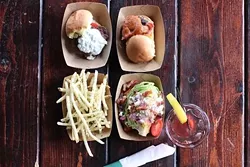 Starving MSU students rejoice, Green Dot Stables is coming to Lansing.
The venerable sliders spot known for its cheap, gourmet eats and drinks will expand to the former Whiskey Barrel Saloon 410 S. Clippert St. sometime next year.
InLaws Hospitality, run by husband and wife Jacques and Christine Driscoll and chef Les Molnar, closed on the 12,000-square-foot former country-themed night club (that features "Dick" the mechanical bull) Thursday (Oct. 13) and plan to use the extra space that will double as an event venue.
The fate of the bull is still be worked out by lawyers and insurance experts.
The expansion marks the fourth Michigan restaurant for the hospitality group (there's a Green Dot in Malaysia run by a group of restaurateurs there).
The Driscolls, both Michigan State alumni, opened the first Green Dot Stables in 2012 inside a former cop dive bar, followed by Johnny Noodle King (inside a former Johnny Ham King) in 2014, and the "Up North" themed spot Huron Room late last year. The Malaysian enterprise launched in 2015.
See also:
Detroit's Green Dot Stables to open second location - in Malaysia
See also:
Green Dot Stables returns with a twist