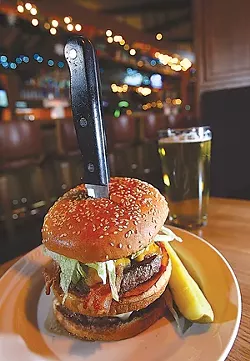 It was another sign of the times when Mark and Sue Larco closed their upscale Italian chophouse after 19 years on Big Beaver in Troy west of Rochester Road. The Larco family had been involved in Italian restaurants in our area since the '50s. 
However, they quickly reopened last July as the Big Beaver Tavern in the same, spacious, brick-and-stone stand-alone building. Although the new Larco enterprise is now an informal sports bar, they did retain son Peter Larco in the kitchen, where the graduate of the Culinary Institute of America turns out some of their old Italian favorites along with ribs, burgers and sandwiches.
Owing in good measure to the chef's pedigree, the Big Beaver Tavern's cuisine is superior to that found in many sports bars. Indeed, many of them employ mere "cooks" and not a chef.
The dimly lit, sprawling room that seats 140 features cozy booths and tables, virtually all of which have clear views of at least four television screens. The football fanatics at our table on one NFL Sunday were pleased with the placement and height of the screens.
But even they paid attention to the food. Much of the tavern's cuisine is assertively spiced, beginning with its admirable take on calamari, flash-fried with hot peppers in a lemon-wine sauce ($7.99). Ignore the silly name for the broiled tenderloin tips ("shizzle sizzle") and order the generous portion of tender nuggets with garlic bread and zip sauce. Zip sauce, a curious Detroit staple, tends to be salty, however. Some may want to order it on the side with the tenderloin appetizer or when it appears with the 14-ounce rib-eye steak entrée. 
Other familiar artery-clogging firsts include chicken fingers, wings, beaver skins (which refer to potato skins stuffed with bacon and cheddar cheese) and the beaver dam, a tall corn tortilla with ground beef, mozzarella and cheddar cheese. Or you could launch your meal with a dense, slightly under-seasoned minestrone soup based upon a family recipe from the '50s.
Among the substantial salads ($4.59-$7.99), two classics, an anchovy-less Caesar and the more complex chopped Italian are well-constructed and suitably dressed.
The mains, including five pasta specialties, average about a reasonable $13 for generous portions. Two standards, fish and chips with their crisp beer-batter and moist fish and tangy barbecued ribs easily pass watering-hole muster. 
More adventurous — and a link to the tavern's culinary past — is the chicken diablo swimming in a marinara sauce spiced up with banana peppers. Not as spicy are the chicken parmigiana or palmina. Lemon chicken, blackened or grilled yellow fin tuna loin, grilled salmon and breaded pork tenderloin Siciliano round out the versatile entrée roster.
Not surprisingly, the tavern's pastas are not perfunctory, especially the crunchy baked penne palmina, which is Larco's creamy-marinara-sauced version of the ever-popular mac and cheese. And the traditional spaghetti Bolognese is a bargain at $8.99. All can be enhanced with meatballs or sausage or modestly priced house salads, garlic bread and baked cheese.
There are also plenty of options among the hamburgers, although most diners may find daunting the signature Big Beaver burger, two half-pound patties with bacon, Swiss and cheddar cheese, sautéed onions, lettuce and tomatoes. The $12.99 price tag is not as steep as it appears since the burger comes with an "I ate the Big Beaver" T-shirt.
Lighter eaters can opt for such sandwiches as a satisfying chicken-Caesar roll up, corned beef or stacked Dearborn ham and cheese.
The once impressive Larco's wine cellar has just about been sold off. Instead, there are a handful of wines by the glass ($6.50 to 8.50) to go along with a larger array of beer. Like many sports bars, the beer is often on special, along with other deals such as 10 chicken wings for $1 with each alcoholic drink on one Sunday. The tavern also promotes a ladies' night as well as an open-mic night. 
Desserts at the Big Beaver tavern are still house-made — the tiramisu is ethereal, the chocolate bomb cake is luscious. And the servers, occasionally assisted by manager Susan Oszust, are still as attentive and professional as they were in the more formal Italian ristorante era.
Many restaurants have closed in our area over the past year. Others have downscaled or otherwise offered a variety of coupon-based bargains. Making the best of a bad situation, the Larcos' decision to transform their restaurant into a sports bar seems have been a wise one. At the least, by retaining more than a few dishes from their old Italian bill of fare, and by offering solid all-American bar food from wings to burgers to tortillas, they seem to be making the transition gracefully to a sports bar with a respectable kitchen.