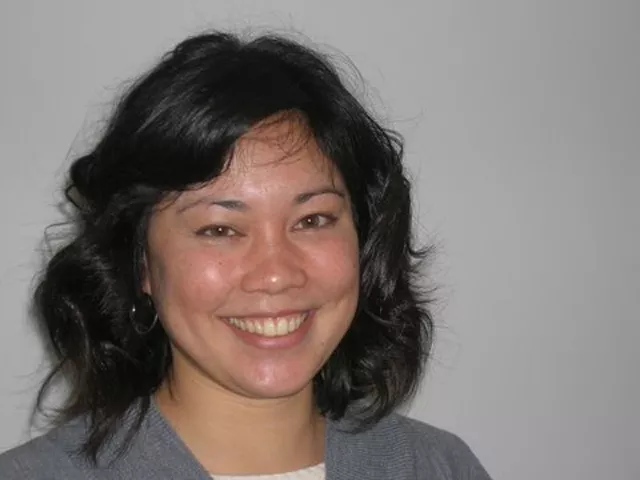 Jess Daniel moved to Detroit in July, knowing only three people. In order to meet people, she invited her neighbors over for dinner. They liked the food and Jess liked feeding them and getting to know them. Then she began selling noodles from her house, telling her neighbors and putting up a website. On her first "noodle night," 75 people showed up. Her idea has evolved into a once-a-month dinner that can be picked up or eaten at Supino Pizza. The food must be ordered in advance from the website neighborhoodnoodle.com. It's a great way to enjoy a tasty meal on the cheap and to meet a cross section of the local community. Jess has embraced the community, and the community has responded in kind. In a few short months, Jess has become a genuine Detroiter.
Metro Times: What are the goals of Neighborhood Noodle: profit, nonprofit, community activism, a model for a restaurant?
Jess Daniel: I think it's a combination. I think we would characterize ourselves as a social enterprise, and, when we incorporate, as a for-profit. We looked into some new models like a limited profit corporation for which there's a designation in Michigan. We've been recommended to start as a regular LLC. As we add on educational programs and things like that, we'll probably have a nonprofit that is affiliated with our business. We're still very open as to what the model will be. Originally, we were talking about having food trucks. We are putting together a group of about 15 food entrepreneurs with a social mission who are talking about creating a working group. People are interested in the financial sustainability aspect of things too. We're bringing the entrepreneurs together to talk about the real struggles. You're asking me if we are community activists or in business. There's a lot of serious challenges in trying to be both. It's not easy. All of the people in the group fall into the spectrum. Some of them are motivated by "I just want to have a business to support myself" or "I just want to provide really delicious food," while others are completely on the other side, all about providing access to healthy food to people in neighborhoods. Or it's all about environmental sustainability and buying locally, organically produced fruits and vegetables to use in their businesses. There are different values that people bring to the table. There's a lot of commonality and a lot of similarities, but there's also a lot of challenges, especially there's the problem of how you make the values that you have work with your bottom line, particularly in an environment where even traditional businesses are finding it very challenging. Is a socially motivated business going to do better? An example is a local sausage maker who likes to use fresh herbs and fresh produce. That actually makes it more difficult to write a food safety plan because some USDA regulations make it more difficult to do that than to use dried ingredients. So what are the challenges that come from wanting to create fresh local food that benefits the community? Also what are the opportunities?

MT: That brings to mind Alice Waters at Chez Panisse, considered by many to be the forerunner, or most visible one, that is, of the locavore movement in healthful, quality food.
Daniel: I've had conversations with her, and read from her books, and one of her things is that her organization started very organically. Chez Panisse began with a bunch of her friends. She thought it was a cool idea, and in the beginning it wasn't profitable at all. She was a woman with a vision who attracted all the right people to her cause to make it work. I'm hoping that, with this sort of working group, we'll be attracting not only the entrepreneurs themselves, but also a support network of people who can bring legal advice and advice on financing to the table. One of the things that we've been talking about is establishing a fund, a small rotating loan fund for the entrepreneurs just so we could be like, "It would really help my business if I had this piece of equipment. I need $500." And then we would democratically vote to give the money to that person.
MT: Are you getting any funding?
Daniel: Not yet. We're in the very early stage. I've had a lot of personal conversations with people that will be in this group. I'm a Ph.D. student at Michigan State University in community food systems and sustainable ag. I've worked in the C.S. Mott Group for Sustainable Food Systems, and my dissertation research is going to be about food entrepreneurship in Detroit. So basically this working group is going to be my research project. I'm lucky enough that the Mott group pays me to be a graduate student and to do this research and for some other specific projects. That means that I can kind of act as a facilitator and help if we decide that we want to write a grant or incorporate as a nonprofit, I can spend some of my time doing that for the group.
MT: What is your background in the food industry?
Daniel: When I was living and working in Cambodia in 2008 for about a year, I started out in girls education. But a lot of the work I did around social justice ended up connecting back to food because 85 percent of the people in Cambodia are still farming. When girls weren't in school, a lot of time it had to do with the fact that they were working in the fields or their teachers were working in the fields. A lot of the issues that spoke to me ended up connecting back to these food and ag issues. I just kept getting more and more interested, and when I moved back to the United States I was farming in Washington state for a while. Through that whole period, I've always loved to cook. That's been my way of connecting with people. When I was in Cambodia I learned to speak Khmer, but language and cultural barriers are always difficult, and I think food is a way of connecting through those barriers. Food is love. It's a very nonconfrontational, very simple way of meeting people and finding commonalities. I learned to cook a lot of interesting things in Cambodia. My mom is Singaporian. She has seven brothers and sisters. They are all amazing cooks, so I've learned to cook from them. But I have no background. Actually the only place that I've ever worked in a restaurant, which barely qualifies, is at a McDonald's at Californian Adventures — which is basically the other Disneyland — when I was 16 years old, and I didn't even touch the food. My experience in food service is extremely limited; but my experience in cooking, I have a lot.
MT: What about your partners?
Daniel: Chelsea is a chef. She works at Le Petit Zinc cr êperie. She grew up in this area. She was living in New York for a while, managing an Asian food truck. She has perfect experience. She's a vegetarian, mostly vegan, and has a lot of background in developing that sort of area. Allison has a lot experience in the front of the house and on the servicing side. She's been waitressing since she was 15 years old. She's worked at Supino Pizza and a couple of other places.
MT: Would you categorize Neighborhood Noodle as part of an underground movement?
Daniel: "Partially" might be the answer. Some people have told me that the cachet of Neighborhood Noodle is that it's somewhat underground. Especially when it was out of my house. It's kind of trendy. You have to get in before the deadline. You have to order online. You come and pick it up. One of the women in the working group, who runs Detroit Brunch, has a similar setup where she's operating out of her house. She's surprised to be getting people from the suburbs, trying to get them excited about Detroit, but, on the other hand, she is concerned about serving her neighborhood and her neighbors. She wants to have people coming to her by bicycle and ordering food from her. It is technically underground because we aren't incorporated. We don't have everything we need to be aboveground. But, on the other hand, serving the community, all of us are working toward that, and one of the goals of the collective is to try to create the tools to make it easier to be legitimate businesses. Most of us, because of our missions and visions, we want to be a stable part of the neighborhoods and the community. A lot of us want to be in it for the long haul, to be real established businesses. Neighborhood Noodle is operating out of a commercial kitchen and we have our food handlers' licenses. We're good. I think that some of us are finding that it's difficult to figure out what the rules are and how to follow them. I think that part of what this group is that we want to learn from the experience of people who are a little further ahead of us to understand what are the hoops that we need to jump through, and then, how can we work with the city to make it a little bit easier; not easier in terms of more lax regulation, but easier in terms of more transparency. There's a lot of red tape.
MT: You're a big booster of Detroit. Your Facebook page proclaims, "I love Detroit." Are you originally from here?
Daniel: I had no connection to Detroit. I was planning to go to graduate school in California to focus more on the production end of things, on food supply chains and looking at how to help producers get more return on the products that they were producing. It was kind of like eco-labeling, but making sure the end-consumers knew what the qualities were of the product that farmers were creating, like sustainable, no-till, etc. So I was going to work on that and food distribution issues, but from a pretty academic perspective. At the time I was working in Washington, D.C., on federal agriculture policy, and I was going to conferences around the country and I ended up meeting a few people here in Detroit. Dan Carmody, head of the Eastern Market, was one of them. Talking to some of them about some of the interesting and innovative things that were going on, I got more and more interested. Finally I approached Dan. He thought there were some projects that I might be good to work on. I wasn't sure if there would be enough money to support me, so I ended up approaching MSU and asked them if I could come on as a graduate student. That ended up working out. Now I'm not doing any formal projects with Eastern Market, but we're talking a lot about, like, for example, their Shed 5 renovations. They're planning to put in a community kitchen, so we're talking with them about hooking up this group of food entrepreneurs with what they're planning, to make sure that there's communication going on in terms of needs and what people are looking for. So, that's what brought me here. You might call it inspiration.
MT: Can grass-roots businesses, in your case a food business, have a significant impact on the city of Detroit, or does it take the likes of a reborn General Motors to pump lost vibrancy and spirit back and economic success into the community?
Daniel: It's not an either-or question. Just like an eco-system, there needs to be diversity of sizes of businesses, types of businesses, and operators of businesses in terms of who has the power over the businesses. I don't think that it should be only General Motors or large tech companies. I also don't think that it's going to work if all we have is a million food trucks. Who's gonna eat from the food trucks? My sense is that it takes both. Local businesses can have an impact by hiring locally, sourcing locally, essentially reinvesting in the community. Food can help create a place-making and culture-making potential of these businesses. The same way that people talk about the creative crafts and artists bringing young educated people into cities and getting them excited about staying, wanting to be here, I think that's one of the things that food businesses, in particular, are going to bring. Younger people, even those who grew up here, have a shorter memory in terms of what Detroit was before and what it is now. They tend to see the potential rather than what has been lost. The exciting thing about a lot of the businesses is the people who run them are challenged to make them work, at the same time they have a fierce love for Detroit.
MT: Do you have any favorite cookbooks?
Daniel: Takashi's Noodles is one. I have a friend in Chicago who's been meaning to introduce us and become my noodle mentor.
Neighborhood Noodle's next noodle night is Monday, May 9, at Supino Pizzeria, 2457 Russell St., Detroit. To place your order, see neighborhoodnoodle.com.
Neighborhood Noodle's Thai-Style Green Apple and Carrot Salad
This recipe is traditionally made with green papaya, but it's winter in Michigan, and there aren't too many papayas hangin' round these parts, so we like to substitute a few good standbys. If you use vegetarian fish sauce and omit the dried shrimp, you can keep this vegan. For the coconut, we love to use organic raw coconut from Detroit Zen Center (detroitzencenter.org) or a freshly grated whole coconut from Honey Bee La Colmena (honeybeemkt.com). To toast, just throw the coconut in a cast-iron skillet on medium and toss for 30-40 seconds. Yum.
Salad
1 medium small carrot, thinly julienned
1 small green apple, thinly julienned
1/2 cup daikon, thinly julienned
1 cucumber in thin strips or matchsticks
Dressing
2 tablespoons fish sauce
1 tablespoon olive oil
1/4 cup lime juice
2 tablespoons brown sugar, palm sugar or regular white sugar
2 cloves garlic, minced
1 teaspoon mini dried prawns, pounded (optional)
1 Thai bird chile, minced (optional)
1 cup peanuts, toasted and crushed (optional)
1 cup unsweetened, shredded, toasted coconut (optional)
Cabbage wedges cut 1 inch thick
Peel and julienne the apple, carrot, daikon and cucumber
Prepare the dressing by mixing the ingredients in a bowl. Add the dressing to the salad and toss again.
Place on a serving platter atop two or three wedges of cabbage and sprinkle with coconut and peanuts if you feel like — and your friends have no crazy allergies.