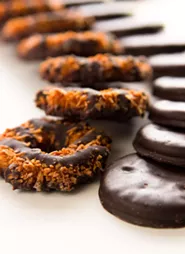 Because your yearly ritual of scarfing down Girl Scout cookies alone on your couch is getting kind of pathetic, here's perhaps the perfect alternative. Come Feb. 21-27, Ale Mary's Beer Hall in Royal Oak is hosting a GSC and beer pairing series.
For $15, guests get four 5-ounce pours of beer to sample with four variety of cookies. On the menu are Thin Mints with Ballast Point's Peppermint Victory at Sea, a peppermint imperial porter; Samoas with a coconut Porter from Latitude 42's Island Fever; Tagalongs paired with Brooklyn Black Chocolate imperial stout; and with Savana Smiles, Abita's Lemon Harvest.
For more details and to purchase tickets, click
here.
We were intrigued by how these delectable combinations came about so we caught up with Ale Mary's beverage director, Chris Brock, to find out the secrets behind a good pairing.
The Thin Mint, for example, has a big flavor that can easily overwhelm others. By pairing it with an equally powerful stout, the two kind of cancel each other out and help to bring out the sweetness and creaminess of the chocolate. For cookies with a lighter taste, like the lemony Savannah Smiles, the goal is to not drown out the flavor profile, thus a mild wheat provides a refreshing balance.
For those who love to hunt for those hard-to-find brews on your own, Brock says his favorite, the Do-si-do peanut butter cookie sandwich, offers a challenge. He tells us there are a number of breweries that offer a peanut butter beer, like Hideout Brewery's peanut butter chocolate stout. There's also Right Brain Brewery's Thai Peanut brown ale, made with peanut butter, cilantro, serano peppers, and coconut oil, which Brock says could add a spicy kick to the cookie. Trouble is, both are hard to procure.
Finally for all you wine enthusiasts, Brock has a few vino pairing suggestions. A buttery chardonnay, with a few Savannah Smiles could work. Or a Banyul, similar to port, could complement the chocolatey Samoa or Tagalong. And for the more daring, the pepperiness of Thin Mints and Shiraz is another option.