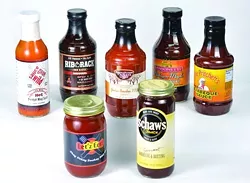 We wanted to do justice to a bunch of Michigan barbecue preparations, so we did it right: We set up a barbecue outside, cooked up some meat, and brought it in for a tasting. We were able to cook quite a bit of protein before the Blue Cross security gave us the skidoo for the outdoor fire, so all was well when the editorial staff, some design personnel, and the odd mayoral candidate settled down to taste.
One thing became crystal clear as the tasting wore on: Michiganders seem to like their barbecue sweet, not hot. Now, we weren't expecting Dave's Insanity Sauce, but the burns were mild and the sweetness was sometimes overwhelming, occasionally cloying. What's the matter, Michigan? Still getting used to those spicy fer-heaters?
Among the sweeties, a clear favorite was the Sansonetti Michigan Maple. One taster called it "a bit heavy on the maple." One heat-loving participant called it too sweet, complaining, "It's like a maple sugar candy!" But a heat-shy taster even said it was too piquant for her taste. That may prove that Sansonetti hit its audience just right.
The Eatzz products got a good reception, the Detroit Smoke sauce having no heat, but plenty of smoke flavor, and the 313 having moderate heat that builds after the first note, a fruity sort of flavor, passes.
Brownwood Farms' Yankee Bourbon had the most interesting consistency, pouring chunky, tasting sort of like a sweeter, tangier version of tomato paste. (Indeed, the comments were confirmed; tomato paste is first on its list of ingredients.) A class act, this sauce from Traverse, which was sweetened with cane sugar and molasses, with nary a drop of high-fructose corn syrup to be found.
Among the confirmed heat-lovers in our group, Sauce Gone Wild's Little Hottie got high marks. Having the same consistency and bright orange color of Buffalo wing sauce, it had that same cayenne kick, but more complex, with sour and tangy notes, if that makes any sense.
Perhaps our reaction to Schaw's Sweet & Sassy isn't fair, as it's also identified as a "basting" sauce, and we had it raw, but rather than "sweet and sassy," we found it "sweet and syrupy." If it was a little too sweet for this bunch, that could be a problem. Similarly, the Rib Rack sauce was a little too rich with brown sugar and molasses, and the Let'z Eet sauce had a flavor and consistency that reminded us of sweet and sour chicken from a Chinese takeout place.
That said, they all had their charms, and appealed to at least one of us — except for Moe Pritchett's sweet and tangy, which one taster called "ketchup." Another taster said, "Wow, you can really taste the high-fructose corn syrup." (Sure enough, next to water, HFCS was the primary ingredient.)