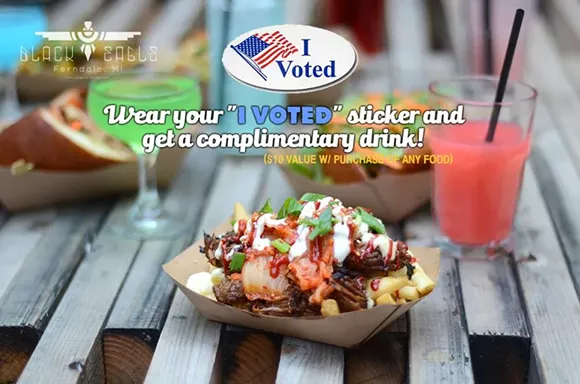 As if you needed any other incentive to vote today other than that the fate of our entire republic is at stake.
Still, we're happy to report that you will be rewarded for your patriotic duty in the most delicious way at several eateries and bars throughout metro Detroit. We're talking free doughnuts and coffee, plus discounts on cocktails and food.
All you're asked for is to show off that badge of honor "I Voted" sticker.
Black Eagle, 22930 Woodward Ave., Ferndale
Score a free cocktail (up to $10 value) with the purchase of any food.
Good Cakes and Bakes, 19363 Livernois Ave.
Did someone say free cupcake? Yep, that's what you'll get at this Avenue of Fashion bake shop.
El Jalapeño Mexican Market, 18942 Dix Road, Melvindale
Not only will you get a free taco with that sticker, it's also Taco Tuesday, featuring $1 tacos... #ElectionDay #TacoTuesday #TacoTrucksOnEveryCorner #ThisIsWhatDemocracyLooksLike.
Craft Work, 8047 Agnes St.
When poll close at 8 p.m., the happy hour discounts begin. Plus, a variety of election-themed drinks and results viewing on the TV.
HopCat, 4265 Woodward Ave.
An extended happy from 7 p.m.-close will feature half off wings, $3.50 Local 30 drafts, $3.50 wells, and $3.50 wine.
Social Kitchen & Bar, 225 E. Maple Road, Birmingham
Get $2 off bottled beer, $6 Social wine, $7 Michigan spirits, and $8 Social Sangria, Slice of Life and Apple Pie bourbon. To eat, there's half-off appetizers and a $10 cheeseburger and fries meal.
Plus, the chains are also hooking it up to voters...
-Krispy Kreme, free doughnut with sticker.
-7-Eleven, free coffee by using the mobile app.
-First-Time Uber users get $20 off ride by using promo code VOTETODAY.
-Firehouse Subs, free medium drink with sticker.
See also:
19 Detroit bars to drown your sorrows away until the election is over

See also:
Election 2016: Buyer's remorse