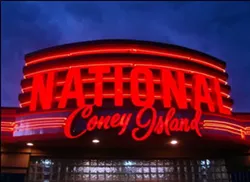 Roseville-based National Coney Island will kick off its 50th anniversary by offering 50 cent Coneys at its locations, beginning at 7 a.m. Tuesday. The near-free-for-all will last one day only, but customers can also buy commemorative glasses beginning July 17 for $3.99. The company says these promotions will help launch a months-long series of special offers.
National founder James Giftos, a native of Kyparrissia, Greece, opened the original National Coney Island in the Macomb Mall in Roseville in 1965. The company quickly spread to locations throughout the Metro Detroit area and is now one of the most popular Coney chains around. "When my father opened the first National Coney Island in 1965, I don't think he imagined the brand identity that would be built over the next 50 years," said Tom Giftos, president, National Coney Island, in a written statement.
No word on whether there is a limit per-customer on how many coneys can be purchased at one time, but we suspect this promotion will cause quite the traffic jam of starving, budget-minded Detroiters.