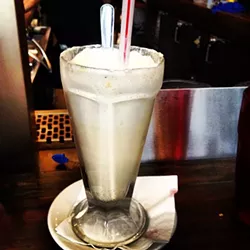 We Detroiters sure are proud of our city, for better or worse. Which is why it's not out of the ordinary for us to take a moment and give a nod when the Motor City has a birthday.
In recognition to Detroit's turning the big 3-1-5, all 28 McDonald's locations in the city will give away free Boston Coolers from 1 p.m. to 5 p.m. on Sunday, July 24. The deal is while supplies last, no purchase necessary.
By late afternoon that day, the mega chain expects to have handed out more than 10,000 of the Detroit-centric treats.
"On behalf of my fellow Detroit McDonald's restaurant owners, I'm inviting everyone who lives, works and entertains in Detroit to join us and toast our great city with a delicious Boston Cooler," says Jon Campbell, a Detroit McDonald's restaurant owner, in a news release. "I hope to see lines out the door of customers coming to McDonald's for a free Boston Cooler. I know our customers will be lovin' our big giveaway for Detroit's birthday."
As a refresher on the frozen dessert, Fred Sanders is credited with inventing it at his confectionary in 1875 by combining another Detroit classic, Vernors and ice cream (which was substituted for sweet cream in a soda). Named after Detroit's Boston Boulevard, the Boston Cooler has remained one of those made-in-Michigan favorites ever since.