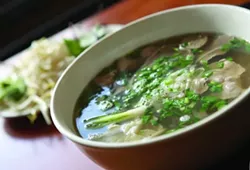 Pho Lucky
23838 Joy Rd., Redford
313-532-2333
pholucky.net
Handicap accessible
Appetizers: $3
Soups, entrées: $7.50-$9
Shakes, coffees: $3-$4
Open 11 a.m.-9 p.m. Sunday, Monday, Wednesday, Thursday, open 11 a.m.-10 p.m. Friday and Saturday; closed Tuesdays
If you've never had pho, the beef and noodle soup that's known as the national dish of Vietnam, I can't think of a better place to start than Pho Lucky in Redford. The restaurant, which opened last year in a tiny cinderblock building on Joy Road just off Telegraph, merits a trek even for those who live at quite a distance. (If the cost of gas concerns you, comfort yourself with the knowledge that nothing on the menu costs more than $9.) As most of the metro area's Vietnamese restaurants are located in Madison Heights, Pho Lucky is a welcome addition for residents of the west side craving the fresh, pungent flavors of Vietnamese food.
Pho Lucky, as its name suggests, specializes in the flavorful soup. There are a couple other dishes on the tiny menu, but the draw — and what keeps happy customers returning — is the pho. The delicate, clear broth belies the amount of flavor it contains, the result of hours of simmering with such spices as ginger, star anise, cardamom and clove. To this broth, rice noodles and a selection of meats are added. The final preparation is performed by the diner via a small plate of garnishes (bean sprouts, lime, herbs, chiles) brought to the table. It's also common to add hoisin or chili sauce (or both) to taste, but I recommend trying the soup first without these; I found the sweetness of the hoisin muddied the soup's clean, subtle flavors.
We were not the only diners impressed by the pho. On a recent Sunday, we overheard the owner, Cong Nguyen, greet a couple and announce to the room that this was the customer's third time there that week. The man had driven from Northville, and professed himself addicted. On other visits, it was a similar scene, with Nguyen greeting regulars, many of whom have taken to coming more than once a week. He encourages a communal feel by hanging out and addressing the room at large in addition to chatting with individual tables, so it's not a good spot for an intimate tête-à- tête, but the tradeoff is a convivial atmosphere that most will enjoy. As our food was served, we were given a lot of hands-on attention by the staff to make sure we knew what sauces and garnishes went with what, and how to best enjoy our dishes. This type of direction may feel overbearing to some, but we could tell it came from a true passion for wanting to share Vietnamese cuisine.
Although pho is the house specialty, the restaurant does offer a small selection of grilled meat dishes served with rice or noodles. My suggestion would be to stick to the pho; the style of these dishes is better executed elsewhere. However, please don't pass up the appetizers. The summer rolls have a fresh, clean flavor; an iceberg lettuce leaf provides a pleasant contrast of textures with the soft rice wrapper. They're served with a sweet hoisin peanut sauce that, while seeming slightly Americanized, is less cloying than other versions we've had locally. The spring rolls are a real treat; filled with spiced ground shrimp and pork, they are all killer and no filler (i.e., no cabbage or noodles to "dilute" the meat). Consequently, they have a rich flavor that is nicely offset by a sweet-sour vinegar dipping sauce.
Pho is traditionally served with a variety of types of meat in the same dish. At Pho Lucky, you have the option of several configurations of the following: cooked beef, rare eye of round, meatballs (more like a rich sausage), tripe and tendon. First-timers may be tempted to stick to the "safer-sounding" options, but if you've ever been curious about offal, this is probably the best place I can think of to stick a toe in the water. As someone who's tried tripe on a few occasions and found it stinky and unappealing, I nevertheless ordered the house special with all of the meats, in the interest of good reporting. I'm so glad I did. The tripe here has no off flavor whatsoever, and is more a pure textural experience. It's delicate and easily chewed, and was a delight to eat. Like the tripe, tendon provides more texture than flavor. Because the soup is pressure-cooked, the thin slices of cartilage become soft and melting rather than gristly.
To cap off your meal, try a rich Vietnamese iced coffee or a tropical shake, both made with thick, sweet condensed milk. The shakes come in a variety of fun flavors, such as soursop, durian and avocado. They're definitely more a dessert than a healthful smoothie, but they're a delicious indulgence. And speaking of indulgence, if you're up for a challenge, the restaurant offers a huge bowl of pho for $20. Containing 2 pounds of noodles and 1-1/2 pounds of meat, it's free to anyone who can finish it; you even get a T-shirt. Taped on the wall near the cash register are photos of the lucky winners — and their failed brethren.
We asked Nguyen if he has any plans to expand the menu; in particular, some salads would be welcome, especially when the weather turns warm (as well as making some room for vegetarian choices). For now, though, he says they're just sticking to what they do best, and keeping things tightly focused. With the volume of repeat business speaking for itself, he sees no reason to tinker with his successful formula, and ultimately we would have to concur.
Noelle Lothamer dines for Metro Times. Send comments to [email protected]