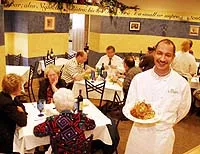 By the time he was 2 years old, Kipp Bourdeau knew that he would be a chef. He eventually trained at the Culinary Institute of America, and worked in Atlanta restaurants for eight years. He met his wife, Susan, when the two helped to open a restaurant in Florida.
But when it came time to open their own restaurant ("Our dream," says Susan), the couple came back to Michigan, where Kipp grew up. Lucky for us. Bistro Bourdeau opened quietly in January at the corner of Squirrel and Auburn roads.
Friends who live in Rochester Hills joined us for dinner one night. "We need a restaurant like this," they said happily after a delicious meal where we debated whether to assign four or five stars to Bistro Bourdeau. We had enjoyed the food immensely, but the dining room was short-staffed that evening and an assemblage of dirty dishes sat on the table even after we were served dessert.
We began by sharing a shrimp-and-shiitake spring roll ($6.50), which is served with a marinated cucumber-and-onion salad, and arrives at the table spilling out of a white cardboard take-out box. It's all drizzled with a dipping sauce of mangos and Scotch bonnet peppers, which was spicy but not too hot.
On another evening we had lobster-and-goat-cheese quesadillas, served with aïoli tinted with roasted peppers. The Florida Valencia salad, a "plated" salad as elegant as many desserts, featured butter lettuce garnished with gorgonzola cheese and honey-roasted walnuts, with slices of avocado nestling orange sections, all topped with mango vinaigrette.
Don't skip the onion soup, a recipe that Chef Bourdeau developed in Florida, where it won a local cooking award. A mixture of five different onions in a creamy base is topped with croutons and Parmesan cheese.
The menu features 19 entrées, and we sampled six of them. Not one disappointed. And the prices are quite reasonable.
One in our party ordered the 16-ounce pork chop ($16.50). Served with a Calvados cream sauce and grilled apple and frizzy fried potatoes, this huge piece of meat was more than 2 inches thick (I measured).
A jambalaya pasta ($14) contained green and white penne with thick slices of andouille sausage, chicken strips and shrimp. The shrimp were tender, but too small. Maple-cured salmon ($17) had a delicious topping of sweet pecans, while the whitefish ($15) was topped with finely ground andouille sausage; both were excellent.
The building has been completely renovated, with the interior divided by a circular room meant to evoke a wine cask. Whether this works or not you'll have to decide, but it does create a lot of private spaces where quiet talk is possible even if the restaurant is crowded.
There are only two very ordinary draft beers available, but a very well-rounded wine list. We tried a glass of Good Harbor Trillium, aptly named after the pristine spring wildflower, with a fresh, light taste.
We couldn't help noticing an industrial-size jar of sliced pineapple on the bar. Our waitperson informed us that the fresh pineapple was marinating in Skye vodka for a pineapple-vodka martini. The resulting drink bore no resemblance to a martini, but it was delightfully smooth and could easily sneak up on you.
Its not easy to save room for dessert at Bistro Bourdeau, but make an effort. Pastry chef Sheila Nawrocki includes classics such as tiramisu, apple brown betty and crème brûlée. Our favorite was thin layers of chocolate cake richly dotted with pecans and layered with bananas and whipped cream. Better yet, try the dessert tasting, a little of everything.
Elissa Karg dines for Metro Times. E-mail [email protected].