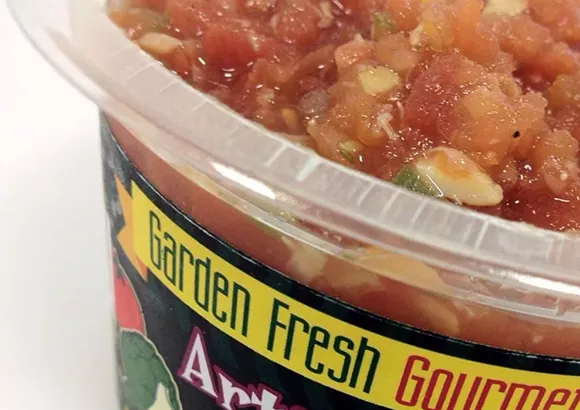 In 2015, Ferndale's Garden Fresh Gourmet co-owners Jack and Annette Aronson sold the company to Campbell's for $231 million. What'd they do with that sizable haul for the salsa, hummus, and chip company that they started in 2005?
Hopefully they took a trip or three around the world in recent years, but now they are launching the Great Lakes HPP Food Innovation Center in Taylor.
"HPP" stands for high-pressure processing, which is a pasteurization technique that uses cold-water pressure to make foods safer and stay fresher longer, thus eliminating the need for artificial preservatives.
The process involves placing sealed food in a vessel and hitting it with a high level of cold water pressure (about 8700 pounds of it), which inactivates bacteria, virus, yeasts, moulds, and parasites.
Jack Aronson tells
Crain's
that the couple purchased the machine for $8 million.
"I was having to send out all of our food to be processed in Wisconsin," he says. "There was nobody in our state that had the machine. This machine has the capability of doing 70 million pounds of food per year. If we max the machine out, we could see about $15 million in revenue."
Great Lakes HPP Food Innovation Center's 40,000-square-foot facility is the first facility of its kind in Michigan.
The company is offering a tour of its Taylor facility at 21740 Trolley Industrial Drive on Thursday. The event also features food from James Rigato of Mabel Gray, Luciano DelSignore of Bacco Ristorante, Andy Hollyday of Selden Standard, Thomas Lents of The Apparatus Room, Enrica "Mama Rita" Rugiero and Patrick Rugiero of Roman Village Restaurant, Genevieve Vang of Bangkok 96, and Drought Juice's James sisters.
So many restaurants, so little time. Find out the latest Detroit dining news with our weekly food newsletter delivered every Friday morning.