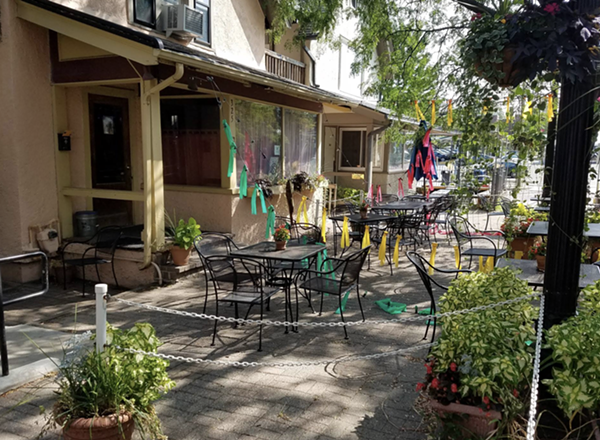 Supporters of downtown Ann Arbor gay bar Aut Bar are
raising money
after the bar was vandalized early Friday morning.
Owner Keith Orr told
MLive
that the damage wasn't significant, but his staff found light bulbs smashed, fascia board damaged, and colorful streamers and pride flags torn down.
Via
Facebook
, Orr said:
Right now I feel violated. Our safe space has been attacked. I hope the community also feels violated, because this wasn't an attack on Martin or me. This was an attack on our community.

The monetary damage wasn't great. We have to replace fascia board on at least one, perhaps three, buildings. We'll need to restring wire, probably buy some new light strings, definitely get more bulbs. (A lot of the bulbs are smashed. We have some backup, but not a patio full). Clearly the patio will not have lights for the weekend. It will also take a fair amount of labor to put it back together.

But the real damage is the attack on our community.
A
GoFundMe page
set up to support the bar raised $7,945 in 17 hours. Money not used for repairs will be donated to the Common Language Bookstore and the nonprofit Jim Toy Community Center. Both share a courtyard with Aut Bar and serve the LGBTQ community.
It's the latest in a series of incidents targeting gay people or minorities around Ann Arbor,
MLive
reports.
On Aug. 10, Concordia University employees found racial slurs spray painted onto the running track.
On Aug. 18, vandals
spray painted racial slurs and swastikas
at the skate park at Veteran's Park.
And on Aug. 22, someone made a
bomb threat
at the Jewish Family Services of Washtenaw County.
Donate to the Aut Bar's campaign
here
.