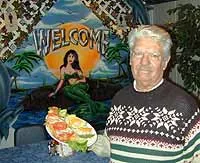 The restaurant at Junction and Porter in Detroit has gone through several owners in search of success – it's too many blocks off the beaten track for anyone wandering the Mexicantown strip to just happen into. But now that it's "The First Mexican Seafood Restaurant in Detroit," Mariscos, El Rincon Taraxco will surely make it. ("Mariscos" means simply "seafood.")
Though under new ownership less than three months, it was full on a recent Saturday night. It deserves a following – not just among the natives of Jalisco, Mexico, who've already created a word-of-mouth reputation in the barrio – but also among anyone else seeking high-quality seafood. Or Mexican food, or Mexican seafood.
Yes, you'll pay more than you would for a chalupa. Juan Servin, who greets guests at the door, says that before he and his father Jesús opened for business, you had to travel to Chicago to get Mexican seafood, at least in this much variety. Most of us didn't do that, but it's a relief all the same to be spared a five-hour drive for fantastic filete al mojo de ajo or camarones a la diabla or ceviche.
All this good food plus a mural of Selena as a sultry mermaid. Take time to check out the elaborate outside mural too, with its crosslike anchor surrounded by brilliant fish.
To begin, your server brings you guacamole and, oddly, soda crackers. Ignore them and request tortillas. Then ask for ceviche (say-veech-ay), which begins as raw fish marinated in lime juice. The acid "cooks" the fish, then peppers, tomatoes and onions are added. For me, it's 100 percent reminiscent of a Caribbean beach; the translation "cold fish" does not do it justice.
One of Rincon's two chefs is from a beach restaurant in Sinaloa, the other from Jalisco, both Mexican states bordering the Pacific. They cook in both styles, using lots of mojarra and huachinango (tilapia and red snapper).
The fish soup, made with cod, is smoky and picante and filled with vegetables. It's complex and healthy tasting and highly recommended. The chico size is a big bowl.
A couple of dishes combine red, green and yellow peppers to visual and taste advantage: filete a la veracruzana and shrimp fajitas (which disappeared from the menu between my two visits — ask for its return). Who would know that this delectable filet comes from the humble catfish?
Two dishes that combine cheese and seafood in spectacular new (to me) ways are filete fundido and shrimp quesadilla marinera. The mild mozzarella makes a crisp crust that does not overpower the delicate cod.
The oyster cocktail is as fresh as can be. (Servin uses nothing frozen.) You can also get oysters in their shells, shrimp and/or octopus cocktail or the "Back to Life." Named because of its nutrition content, this cocktail contains shrimp, ahuachile (which is shrimp marinated in lime juice with chiles and spices), octopus, scallops and oysters. Sounds like a hangover cure. If I were ordering this, I would ask for it without the usual thick red sauce, although it does taste of fresh tomatoes.
Tequila, beer, rum. No credit cards. Open every day. Summer is seafood time, right? So go.