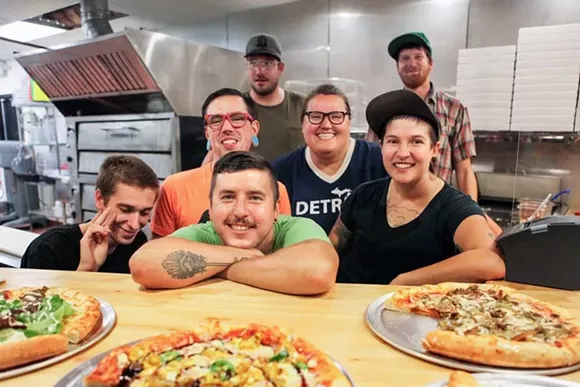 You used to love Sunday nights at Woodbridge Pub, that time of the week when you got to dig into a truly unique pizza pie brought to you by the folks by the Pie-Sci popup pizzeria.
Last year, founders Jeremy Damaske and AJ Manoulian set out to set up a brick and mortar space next door to the bar, at 5163 Trumbull. Just about a year later, after months of renovations and work to obtain the proper licensing, the pizza shop opened at 6 p.m. Thursday.
The eatery is open 3 p.m.-midnight Monday and Saturday, 11 a.m.-10 p.m. Tuesday-Thursday, 11 a.m.-midnight Friday, and closed on Sundays. The
Freep
says Pie-Sci plans to add bicycle delivery in the Woodbridge/Wayne State area in the future, as well as a back patio.
The menu is organized into three sections, (basics/elementary, complex/high school, and graduate/U of pizza) from which diners can decide how daring they want their pizza combinations. Selections include several red or white pies (with red sauce or white sauce).
For those who don't want to go super fancy, customers can select a Margherita, for example, a white pizza with garlic oil, cherry tomato, basil, and fresh mozzarella balls. Step it up one notch further with the "Age of Asparagus," another white pizza with garlic oil, asparagus that's shaved and marinated, mozzarella, and topped with Parmesan cheese, balsamic glaze drizzle, and a lemon wedge. Graduate level selections include the "Strawberry Cough," with garlic oil, thinly sliced strawberry, basil, chicken, mozzarella, and a balsamic glaze drizzle.
Look below for more on the menu.