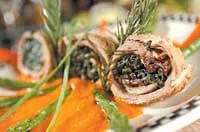 In one corner of the dining room, alongside framed reviews, is a photograph of a beaming Tara Lapinski with her Olympic gold medal. She wrote: "To Pasta Fagioli — My favorite Detroit restaurant."
One can imagine Tara, after working up a healthy appetite while training at the Detroit Skate Club, wolfing down fettuccini Da Vinci (with red peppers and chicken in a mushroom sauce), or one of the other dozen pasta entrées that give this little spot its loyal following. It's a modest place in just another suburban strip mall. It doesn't have the most extensive menu, or the cheapest prices, but what's there is very good.
My first bite of veal piccata proved the point. This classic dish can be found in most Italian eateries, but here it's just a little bit better, with a little more sauce that's a little more lemony, with more capers and artichoke hearts, not to mention very tender medallions of veal.
Chef Hamad Kouka, who worked for many years as chef at the exceptional Ristorante di Modesta, is on the scene day after day. It's a proven strategy that keeps quality high.
The restaurant first opened as a take-out operation, but before long added five tables. Now there are 11, and eight more seats at the counter.
Wall murals were painted by Janine Kouka, who owns the restaurant with her husband. The painting gives the impression that you're sitting in an Italian courtyard, with all of Italy just beyond the faux columns and flowering vines. On the wintry nights when we were there, the front door let in a blast of icy air that impinged on the fantasy.
The signature soup of white beans with a scattering of macaroni is just right for winter. It's simple and hearty, and it's fitting that the restaurant is named for such a straightforward dish.
Just when you think minestrone is predictable, one comes along that's different from all others you've eaten. The broth only hints of tomatoes, and vegetables include hefty slices of celery, carrots, potatoes and cabbage. No beans. It's different, but good.
The lasagna is carefully constructed, each layer thickly blanketed with ricotta, more like a rich layer cake than a lightly dressed pressed sandwich. The ratio of cheese to tomato sauce is the opposite of what you may be used to, and it's delicious.
Ravioli, made fresh daily, is served with a bright orange palomino sauce that comes from mixing tomato sauce with cream. The same sauce appears on the gnocchi cappricciosa — perfect little potato dumplings, light as pillows, which the sauce doesn't overwhelm.
A frequently appearing special is angel hair pasta with lovely grilled shrimp and plenty of fresh vegetables, including spinach, onions and tomatoes.
Beyond pasta, there are four veal dishes and two fish entrées — grilled salmon with mustard sauce, and white fish Livornese with black olives and onions in tomato sauce. For those with specific nutritional requirements, there are "heart-smart" options — whole-wheat pasta with vegetables and fresh herbs is pricey at $19 — and even some low-carb options, unlikely as that may seem for an Italian eatery.
The house salad is served with all entrées. The ingredients are ordinary — romaine, shreds of carrots — but the dressing is extraordinary: creamy, shot through with grainy mustard.
On our first visit, we were celebrating a birthday. Admittedly, we arrived late (8:30 p.m., the restaurant closes at 9 on weekdays) and were the only ones there, but the chilly reception from our server served to cast a shadow on the memory of the occasion.
Elissa Karg dines for Metro Times. E-mail [email protected].