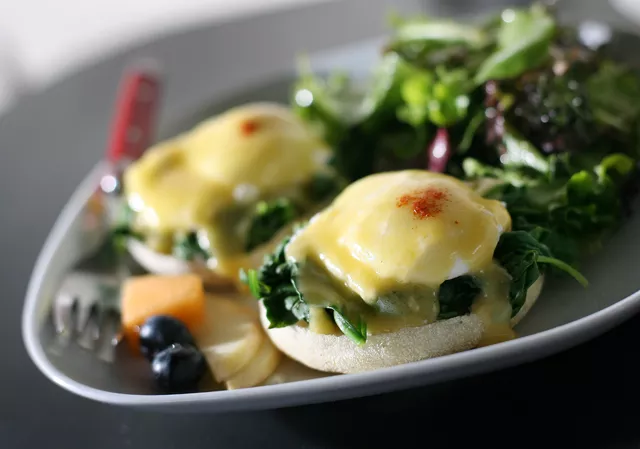 Brooklyn Street Local
1266 Michigan Ave., Detroit
313-262-6547
Handicap accessible
Breakfast, soups and sandwiches: $6-$11
Open 8 a.m.-3 p.m. Tuesday-Friday, 9 a.m.-3 p.m. Saturday-Sunday, closed Mondays.
Although many are skeptical of Detroit's supposed comeback, optimists can point to a recent jump in young entrepreneurs coming into the city to start businesses. There's plenty of room, and those with a yen to open a new business can often find real estate on the cheap. Even more enticingly, competition is sparse, and people with disposable income are hungry for new options.
Many of these urban entrepreneurs are from the surrounding area, but a few have come from farther afield. Such is the case for Deveri Gifford and her partner Jason Yates, both from Toronto, who moved to Detroit after visiting only a handful of times. Attracted to the city's supportive, small-town atmosphere, they purchased the former greasy spoon, Brooklyn Street Grill in Corktown, and reopened it as a diner serving breakfast and lunch.
Gifford and Yates are big proponents of urban farming and the local food movement, and have made those the cornerstone of their business, sourcing as much as they can from local purveyors such as Grown in Detroit, Pointe Dairy, Corridor Sausage, the Brinery, and Great Lakes Coffee Roasting. The menu is short and sweet, as befits the small space they are working with — a few egg dishes and a couple sweet things for brunch; a small selection of sandwiches and salads for lunch. They cater heavily to the vegetarian-vegan population with items like house-marinated tempeh "bacon," but it's a good balance that should satisfy a mixed party of carnivores and veggies alike.
Our first venture to BSL was on a Saturday for brunch. We groggily perused the menu for the fattiest, most carb-filled things we could find, settling on the "Hangover Special" (two eggs, breakfast meat, potatoes and a side of poutine) and eggs Benedict. Both meals served their intended purpose, although my partner was verging on distraught that the restaurant had run out of the roasted potatoes that should have accompanied his meal.
Both of those breakfasts feature a typical Canadian food item — poutine (fries drenched in gravy and topped with cheese curds) with the Hangover, and pea meal bacon on the eggs Benedict. If you haven't been to any hip, casual restaurants in Detroit lately, you may be unfamiliar with the poutine trend that's sweeping the city. Being from Canada, the owners of BSL might have a more legitimate claim to authentic poutine, but, although it's not bad, I can't say it's my favorite in town. We tried it twice, and both times found it water-gulpingly salty (this didn't stop my co-diner from finishing every bite). The pea meal bacon on the eggs Benedict is a nice touch, and something you can't get elsewhere. It was nice to sink my teeth into meat with actual flavor, rather than the usual rubbery slices of ham-like Canadian bacon (actually an American bastardization of real pea meal bacon). Pork loin is brined and cooked at the restaurant, an example of one of the many items either locally sourced or made in-house.
On another visit, we sampled the lunch menu, served Tuesday through Friday after 11 a.m. Again, it's a small selection, but there should be plenty to suit all tastes — grass-fed hamburgers, roasted chicken sandwiches, a few egg items for the late risers, and, of course, several vegetarian choices. Among these, my vegetarian companions singled out the veggie burger as being not only above par, but perhaps the best in the city. The lentil-based burger comes with the usual fixings and a spicy maple mustard that's also made on-site. I tried the grilled cheese with apple compote, adding grilled onions. At $7, it's on the pricy side for grilled cheese, but it's perfectly executed, so I didn't mind. No slimy American cheese here — they use sharp cheddar that gets just a little funky when melted, its flavor melding well with the apple compote. Also worth noting is the salad that accompanies it: ultra-fresh baby greens from a nearby urban farm, tossed in just the right amount of balsamic vinaigrette. I am fussy about my salads and this one had me spearing every last tiny leaf.
Returning for brunch on another Saturday, I ordered one of the quiche specials with an arugula pesto and cherry tomatoes. I wish I could report on the quality of the roasted potatoes, as I feel the caliber of a brunch place can often be judged pretty accurately on the quality of its potatoes alone, but once again, they had run out. Both times, we were there before noon, so if you want to be assured of potatoes with your meal, you may want to get there extra early. Upon request, they brought out a side of that perfect green salad as a substitute. With its flaky crust, ripe and juicy tomatoes and delicious, fresh-tasting pesto, my quiche soon made me forget the disappointment of the lack of potatoes.
The interior of the restaurant is pretty plain, with simple, utilitarian tables and chairs, and rust-colored walls that complement the '70s-era stained glass lamps that grace many a diner. But in a neighborhood that still has whole blocks of unoccupied buildings, people aren't coming for the decor. Despite Corktown's mini restaurant boom of the past five years, there still aren't many options in the breakfast category, and Brooklyn Street Local is able to neatly fill a niche. Still in their first year, a couple kinks need to be worked out yet, but the focus on fresh, local food is a good indicator of where the neighborhood has been heading, and something we hope to see more of in the future.
Noelle Lothamer dines for Metro Times. Send comments to [email protected]