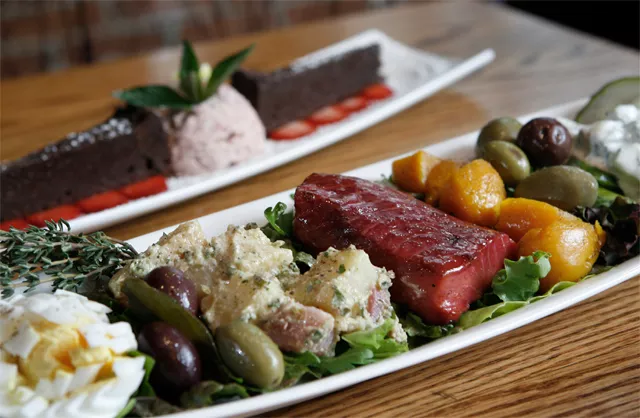 The early 20th century was a good time to be a cocktail lover. Creativity was the norm, fresh juices and mixers were standard, and regional distilleries produced countless spirits. The Ravens Club unmistakably aims to bring this approach to food and drink to Ann Arbor.
Initial impressions are obviously important, and the decor raises expectations. The style combines the ornate aesthetics of the pre-Prohibition United States with a contemporary flair. A detailed, ostensibly hand-carved bar looms over the room. Old iron lampposts illuminate the bar area, and elaborate iron sconces adorn the opposite wall. Attractive wallpaper and black walls provide accents throughout.
Without question, the Ravens Club has style. But does it have substance?
Dig in to their white bean hummus appetizer, and you'll likely answer with a resounding yes. A bean purée was accented by sharper ingredients such as mint, garlic and miso — a rustic feel with a flavorful, herbal punch.
Many Northerners haven't been exposed to shrimp and grits, but for $10, the restaurant offered an appetizing, starchy interpretation of the dish that adds okra and smoky paprika. A similar smoked, spicy flavor was in the house ketchup that accompanied an addictive, $5 cone of pommes frites, crispy on the outside and soft throughout.
In addition to the appetizers, they also offered salads, a cheese plate, and two soups — the house mulligatawny soup and a daily feature, which on a recent trip was a very pleasant onion soup. Made using cheese, this creamy pottage was salty, but like a bag of chips, it created a craving for more.
At first glance, the cuisine is a hodgepodge, with influences ranging from Asia to the American plains, but the approach is actually quite cohesive. From appetizers through dessert, the Ravens Club consistently offers genuine, rustic, often earthy flavors that suggest an older, bygone approach to food.
Confit of Rabbit. Savory Chicken Pastry. Prairie Game Chili. These are not standard menu items in most of today's restaurants. But they're nonetheless simultaneously familiar and creative. The chili ($14), for example, is a tender stew of antelope meat replete with beans and roasted veggies. If that doesn't evoke imagery of turn-of-the-century life on the plains, the garnishes might: a piece of roasted quail and a chunk of Cheyenne batter bread.
Of course, familiarity and creativity don't guarantee enjoyment. Among our party, the bucolic tang of the cuisine caused some sharp divides. Perhaps no dish was more polarizing than the lamb-and-pork-belly cabbage rolls, which consisted of ground meat stuffed inside cabbage leaves and served with potatoes and an acidic tomato-based sauce. Fans of clean flavors or elegant haute cuisine might find this hearty victual off-putting; but conversely, those who enjoy a bit of earthiness or country comfort flair might fall in love at first bite.
The theme continues: A perfectly cooked Cornish Game Hen was accompanied by wilted greens and chunks of salty, tart preserved lemon. Served wrapped in parchment paper, the baked walleye ($19) comes with a nicely seasoned quinoa, a sweet and sour mix of veggies and anchovy. Nearly everything on the menu plays with one's entire palate — sweet and salty, savory and sour.
Paying homage not just to our gustatory heritage but also America's rich cocktail tradition, the Ravens Club offers visitors not just beer and wine but a selection of classic mixed drinks. Indeed, as a friend noted, it was a clear point of pride on the establishment's website. But to meet the expectations they've set for themselves, the bar has some work to do.
While they laudably make their own syrups and bitters, use fresh juice, and pay proper attention to historical categories of drinks, there were a number of details out of place. An otherwise delicious Manhattan arrived as a frothy, unattractive mess from being shaken rather than stirred. Some drinks were carefully measured, while others were not. Most importantly, while the bar staff could execute the drinks, none really knew much about them when asked.
Some of the cocktails were absolutely delicious; others fell flat. Among the best on recent trips included the Prescription Julep; a daily special with vodka, lemon and basil; and the Sazerac. But the ingredients in their signature cocktail — bourbon, port, amaro (bitter Italian liqueur), lemon and egg white — clashed mightily. And one must wonder what prompted unwelcome changes to classics, adding lemon and apple bitters to a Jack Rose or putting St. Germaine liqueur into the Philadelphia Fish House Punch.
Still, as with the food, the drinks add needed competition and sophistication to the Main Street dining scene.
When visiting, don't fill up on antelope and bourbon. The flourless chocolate cake has perfect texture, and the carrot cake, imported from the Heritage Inn in Dexter, was universally loved at our table for its dense, abundant frosting. Among the more unusual options is the Baba du Rhum, a yeast cake drowned in rum, topped by fresh cream and berries. It tastes perfectly fine, though our party wondered if different rum with more barrel flavor would improve it.
It's hard not to appreciate restaurants that take risks, strive for authenticity, and have a vision. The Ravens Club has done all of those things, and judging by the early crowds, Ann Arborites are thankful for it.
Serving dinner 4-10 p.m. Tuesday-Friday, 5 p.m.-10 p.m. Saturdays, 5-9 p.m. Sundays. Bar open until 1 a.m. Tuesday-Saturday, 11 p.m. Sundays.