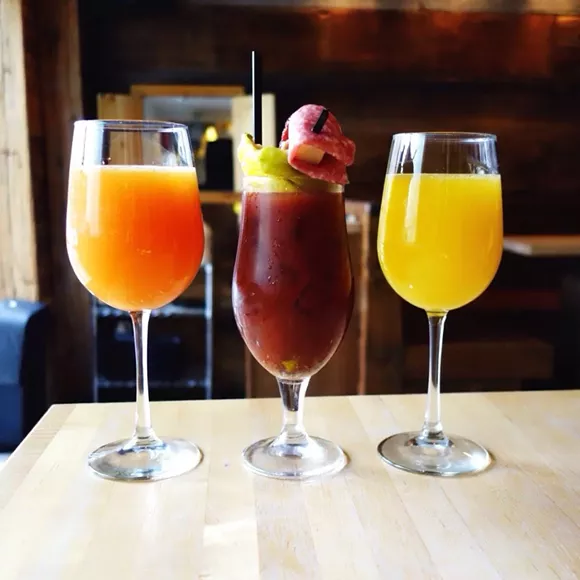 We're headed into a long weekend, filled with overindulgence, not least of which the inevitable post-Thanksgiving brunch plans. For many of you, on top of the Eggs Benedict, chocolate chip short stakes, and hash browns well-done, brunch also calls for bottomless mimosas.
Turns out,
according to a report from BLAC Detroit
, serving you that endless river of cheap bubbly and OJ is actually illegal.
Specifically, under Michigan State Law, "alcoholic beverages can only be served in an 'unlimited' quantity if the establishment is holding a private event at a specific date and time and local law enforcement is aware of said event," the BLAC story says.
That means all those times you drunkenly posted selfies of you and your BFF gulping down round after round of mimosas, bellinis, Bloody Marys, etc. at X restaurant could cost said establishment fines and endless inconvenience from inspectors.
We'll admit, we too may have played a hand at exposing these not-quite-legal activities, what with our
handy roundups
of best places to go for bottomless brunch libations.
But before you damn us to hell for our snitching, consider a few things about the rationale businesses have of offering bottomless mimosas.
First of all, enforcement of this rule is pretty low on the priority list for License and Regulatory Affairs officials. After all, they're busy chasing after party stores that sell to minors and fielding other complaints.
Second, there's a very real economic benefit for bars and restaurants to promote such deals, a plus that very well could outweigh the negative.
The Atlantic ran a
story
a few years ago that looked at the boozy refill game. Aside from peer pressure and the emotional attraction customers get from scoring "free" drinks, restaurants are also banking off all the food you buy with your mimosa (you do tend to get the munchies after drinking), as well as the repeat business you'll give them next time you're wondering, "Hey, where should we go for brunch?"
If you think about it, it's kind of like that super secret pop-up in the abandoned warehouse you were invited to or the dive bar that just might let you smoke indoors (OK, yuck, smoking inside stinks!). None are exactly legit, but still worth the risk to some spots. And in these times when Detroit is still on the cusp of total gentrification, bending the rules still seems only natural.