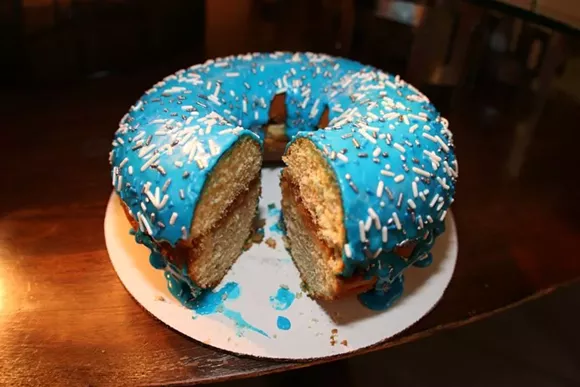 As the Detroit Lions gear up for the upcoming season, we've got our sights set on hitting up Ford Field's new menu.
Atop the list of offerings, the Michigan Cider Mill Donut, a 4-pound, cake-style treat, loaded with Michigan apple filling, and frosted in the team's iconic Honolulu Blue icing ($15),
reports
The Detroit News
.
Crain's Detroi
t
says
guests can also order a cup of apple cider to go with it (with the option to spike with rum).
Also new:
-Detroit Lions Branded Burger, a one-third-pound hamburger with cheese and pickles, with the Lions' logo imprinted into the bun
-Shock Top Brat, made in-house and topped with caramelized onions
-Freshly made pretzels
-Moo Cluck Moo
-Mitch Albom's Detroit Water Ice Factory