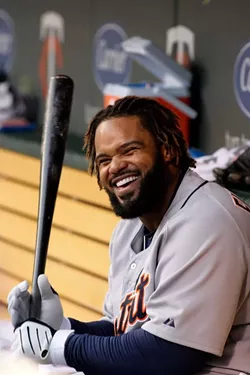 They say that you should find some sort of hobby once you retire from the game — maybe take up golf, learn a new language, or travel your little heart out. In Prince Fielder's case, the former Detroit Tigers first baseman,
hosting his own cooking show
is his way of enjoying retirement.
The show, which will be co-hosted with Fielder's wife Chanel, is called
Fielder's Choice
and will debut on Netflix and Hulu starting in March.
"It's a mixture of baseball people, actors, musicians, chefs and whatnot. They bring out different dishes, and at the end of the show, I give the one I like the most the "Fielder's choice," said Fielder in an
interview
.
Guests include Xzibit, the rapper and host of MTV's "Pimp My Ride," the guy who sings "Feliz Navidad," and New York Yankee CC Sabathia. Fielder did say there are more guests that he cannot reveal, too.
So we're not really sure if Fielder will be cooking food or just eating it, but regardless, we are jealous of the retired baseball player's new plans.